From this year's Tokyo Game Show, we will be providing previews of the biggest games on the show floor. With that comes the sequel to the surprise hit, Hot Wheels Unleashed. 
In 2021 when Embracer released Hot Wheels Unleashed, I felt like it was a game that had no business being as good as it was. As a licensed IP game that felt like something out of the early 2000s, my initial reaction was to pause the game, laugh, and ask why. Why did the developer have to put such a high level of detail into every aspect of the game? Why does the current-gen release look nearly photo-realistic? Who would put this much time, money, and effort into a Hot Wheels game?
Well they are back and Hot Wheels Unleashed 2: Turbocharged will release on nearly all platforms on October 16th. If you played the first game it is more of the same. Fast-paced races in a high-action arcade style, with fantasy elements like boots and traps. The cars are incredibly detailed, and that is presented in 120hz 4K on current-gen consoles. 
What Is New In Hot Wheels Unleashed 2?
With that said, what is new this time around is the addition of motorcycles, ATVs, and monster trucks. While I did not get to see every new vehicle, that seems to be the big pitch with this one. However, that is not the only thing that is new. Hot Wheels Unleashed 2: Turbocharged has a course creator. I did not get to see this either in my demo, but it should be a nice addition for young kids who are into Minecraft, Lego, and every other builder.
My playthrough was on the Switch, while nearly all of the visual aspects I personally loved in Hot Wheels Unleashed are missing from the Switch version, it is a stable release that should make kids happy. With that said, it seems like Embracer has a game here that could run on almost anything, for example, a Steam Deck or ROG Ally.
You Can Not Make Everyone Happy
I thought Hot Wheels Unleashed was a fantastic family game. This is a game the kids in my life gravitated to, even more than Mario Kart. With that said, if the child in your life has been playing the complete version of Hot Wheels Unleashed on Xbox Game Pass, or if you forked over the money for the DLC, I think the missing cars will get lost on kids.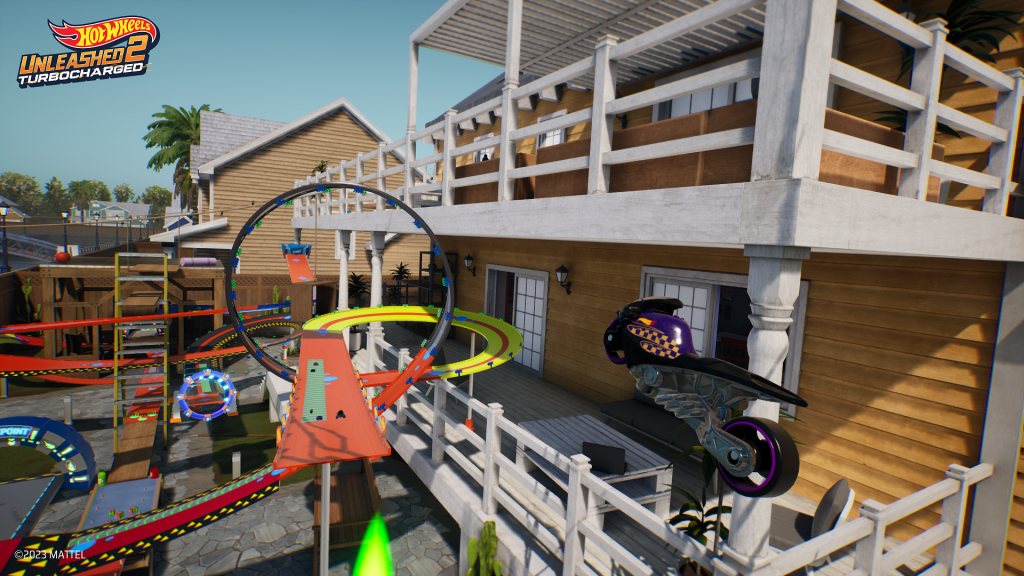 The original Hot Wheels Unleashed has some amazing DLCs like DC Comics, TMNT, and Barbie, just to name a few. While this is a great game for ages 8 to 15, I am worried they are going to try Hot Wheels Unleashed 2: Turbocharged and wonder where all of their cars went. Hopefully, the new ATVs, monster trucks, and bikes will create some levity.
Today Embracer has a road map of two season pass DLC packs. Out of the gate, there will be some Fast and Furious DLC. With the new additions, it is likely that Hot Wheels Unleashed 2: Turbocharged could own the family game crown again.