There are very few creators in the video game industry that draw as much hype as Hideo Kojima. The creator of Metal Gear has always been a sort of mystery to both hardcore and casual fans of gaming. He gained much of his popularity through his work with Konami on the Metal Gear franchise. But has since found success striking out on his own with Kojima Productions creating Death Stranding, as well as the anticipated sequel simply titled Death Stranding 2. While we don't have a firm release date for the anticipated sequel, it appears Kojima might be teasing when we might see it next.
In a post on X (formerly Twitter), Hideo Kojima simply posted a photo of The Game Awards which is set for December 7th, 2023. This might seem like a super simple post, that isn't worth reading into. However, Kojima has a strong relationship with The Game Awards and its host Geoff Keighley. It was during The Game Awards in 2022 that we got our first look at Death Stranding 2. Now a year later it does not seem unreasonable that we could see another trailer. Especially with Kojima's love for cinematics and teasing his projects.
It is worth noting that currently there is no official release window for Death Stranding 2. Could we see a release window announced during The Game Awards this year? It feels like a certain possibility, but one thing is for certain. The 2023 Game Awards could have some big announcements ahead.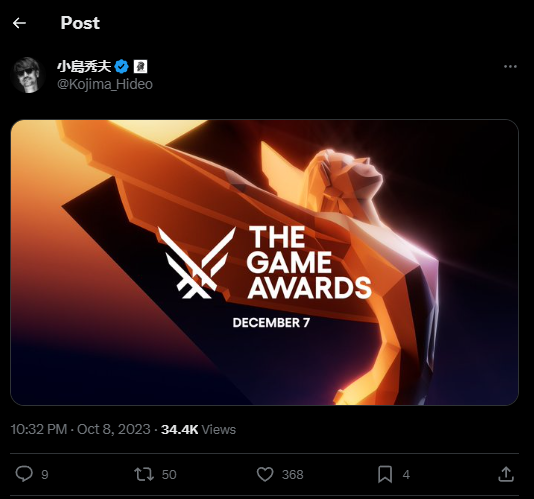 Are you excited about Death Stranding 2? Let us know in the comments and don't forget to check back for the latest gaming news and information.