The game industry has no shortage of zombie titles. From first-person shooters to city-builders, zombie-themed games are aplenty and show their overall popularity. However, not every zombie game makes the mark and is able to grab people's attention. Dead Age 2 from developers Silent Dreams and publisher Headup Games attempt to make a compelling zombie offering, but fall short.

Dead Age 2 describes itself as a survival RPG in its heart but offers a very compartmentalized experience. It's part role-playing, rouge-like, turn-based combat, base building with survival elements that bring it all together. Lords of Gaming previously gave our first impressions of Dead Age 2 back in the summer of 2020. In it, we commended the game's focus on player agency, where your choices truly matter. Suffice to say that player choices were more interesting than the game's actual storyline.
Storyline
Dead Age 2 is a direct sequel to the first game though knowledge of the original is not required to understand the game's context. Ten years after the initial outbreak, Dead Age main character Jack and his camp fled to Freedom City where they developed a cure for the zombie infestation. However, by doing so, a whole host of new problems have arisen.
The game does not veer far off typical post-apocalyptic zombie tropes. You will encounter hardships and various political squabbling that typically comes with building a post-apocalyptic community. Some members will ask for specific favors that turn into side quests. Depending on whether you decide to tackle them or not will affect their standing with your character. It all feels very elementary and familiar to anyone who watched The Walking Dead series for the past decade.
In fact, the game does feel like a simulator of The Walking Dead world. However, do not expect the same caliber of interesting and diverse characters found in the popular TV series. Instead, you'll get the store-brand versions that present enough personality traits to distinguish themselves but eventually will remain unmemorable and inconsequential. And of course, the tried and true theme of fragmented humanity leading to the emergence of competing factions is ever-present in Dead Age 2's world.
Solid Role-Playing Mechanics
Dead Age 2 features three main factions: the ruthless US Military faction, the dodgy Smugglers, and the non-aligned Independents. Each faction has its own unique worldview and profile. Luckily, the game takes faction reputation seriously.
Faction reputation is measured as a score out of 100, where the higher number corresponds with a better standing with that particular faction. The choices you make affect your standing and reputation with factions. For instance, if you choose not to pay the Smugglers' so-called protection fee will definitely bite you in the end. However, gaining notoriety with one faction might adversely affect your standing with another. For example, choosing to intervene to save civilians from the clutches of the US Military may cause more immediate regret, but might increase your standing with the Independents.
When it comes to role-playing mechanics, Dead Age 2 does an outstanding job. It truly feels like your choices have an impact on the storyline. The game makes you feel like the narrative is being crafted by your choices and decisions. It truly is refreshing to have that level of agency in an age where games claim to respect player-choice but often relegate it to a mere facade.
Survival and Progression System
Dead Age 2 is a survival game through and through. You'll often have to balance several considerations while playing. Your base will always need food and water and so will party members so they can perform to their best. Since the world map is designed in a point-to-point traveling system, you will always have to strategically think about where you go. Otherwise, you might use up precious resources that will impact your stock for your base. It was a nerve-wracking experience that got old fast. Fortunately, in the later stages of the game, a new traveling system gets introduced which makes travel more seamless, but I won't spoil it for you.
Leveling up in Dead Age 2 is quite deep. There are so many choices for you to spend your skill points on and you can really experiment on character builds. Especially since skill points carry over from your previous runs. But this also means that permadeath is not only probable but eventual. This carry-over is an appreciated quality-of-life solution. I noticed that once my characters reached level 10, the difficulty had a tendency to spike immensely. It was almost like the game encourages you to die so you can start a new run with the skill points you collected.
Rogue-like Runs
I must say that Dead Age 2's rogue-like runs feature seems like a misstep. It feels like the rogue-run mechanic was tacked on. My impression is that the rogue-like run mechanic was utilized just to pad content and add replayability in an artificial way. Yes, skill points carry over so each subsequent run gets a little easier. But, some of the Dead Ages 2's survival mechanics are mentally draining and its slow pace does not help either.
You are always on edge to make sure you balance out resources and make the right narrative choices. Because of the mental fatigue that results from the game's survival aspects, (especially the base building feature), it discourages multiple runs, especially since the game's pace is quite slow and methodical. The repetition demotivates you going for another run. Continuously losing progress during a run in a slow and methodical game is not a good mix.
Base-Building Mechanics
Dead Age 2 features extensive base-building mechanics. Your home base is where you will craft, upgrade your gear, heal your characters, get new quests, and spruce up your defenses from attacks. This aspect of the game is likely where you will feel most overwhelmed.
Every room has a specific function and managing them all is tedious and will run down your supplies. Do you want to upgrade your garden so you can start feeding your community? Well, that's going to take time and remove a character from your party selection. This can be frustrating especially since you might need an extra set of helping hands to scavenge resources that are critical to your community's survival. I often found myself annoyed when I did not realize how long room upgrades would take, and I was desperate to find more resources that were in dangerous areas of the world map.
I always felt that my base was vulnerable throughout the game. No matter how many times I upgraded my defenses, there was always a sense that things could crumble quickly. It seems like the steep resource cost needed for maintaining your base is aimed at expediting your next run. It really takes out any enjoyment from this aspect of Dead Age 2.
Uninspired Combat
The game features typical turn-based combat with melee, ranged weapons, and special skills. Every turn you get AP points to spend and once you have spent them all, it is the enemy's turn. You can set your characters to the back or move them upfront to dish our melee attacks. Naturally, front-row characters will also receive the lion-share of damage, so you have to make these tactical choices. Melee weapons include the tried-and-tested choices of bladed and blunt weapons. While ranged weapons include your typical run-of-the-mill arsenal of pistols, shotguns, assault rifles.
Your character's combat skills are dependent on where you spend your skill points on. Engineers are competent in building Molotovs, which are essential to breaking down enemy armor. Healers can patch up your party when things get rough. Skills can also be deployed for certain weapons as well like the liquid courage skill that buffs pistol attacks. Combat seems to play it safe for the most part and does not do anything extraordinary.
Function Over Aesthetic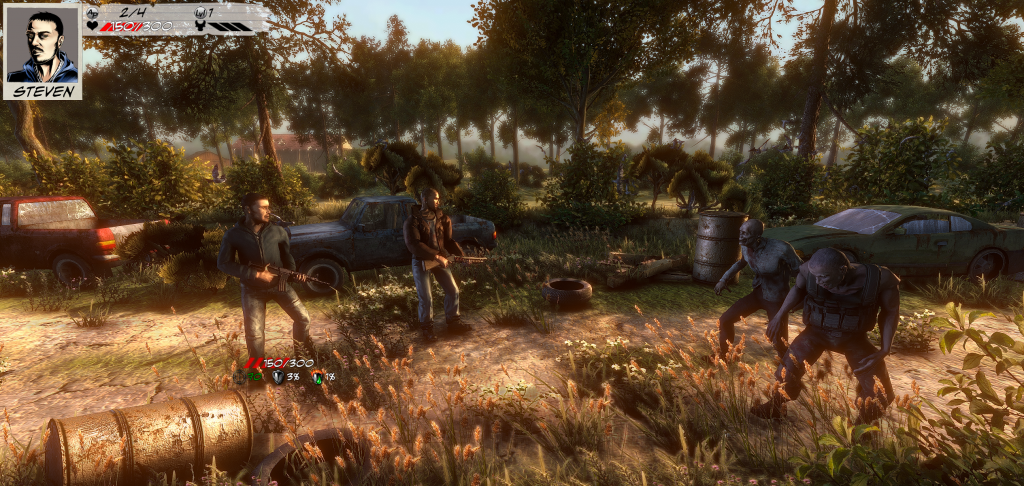 For an indie game, Dead Age 2 has decent graphics. Models are well rendered and look distinctive enough. The backdrops usually have something interesting going on. For instance, sometimes you will find zombies chomping away at a corpse. Other times you will find faction members watching over captured civilians doing some hard labor. The game utilizes the Unity Engine and for the most part, looks adequate.
When it comes to animations, the game can look janky at times. Especially melee attacks that do not seem to connect in a convincing manner. Special effects like fire and shock damage look flat for the most part but do not detract from the experience. However, learning the game's systems and UI is an ordeal of its own.
Tutorial and UI Issues
Dead Age 2 easily has one of the longest-winded and uninformative tutorials I have ever experienced in an RPG. This may seem contradictory, but even though the game walks you through each and every selectable action in combat and base-building segments, I still felt I did not fully understand the systems the game has to offer.
It is overly convoluted. Part of this issue stems from introducing multiple systems like crafting, forging weapons, resting characters to heal that are expensive to maintain in both resources and time. The tutorial barely scratched the surface when trying to explain all of these features. By the time the game does go through each individual aspect, I felt more confused and overwhelmed. In addition, the combat user interface also suffers from similar issues.
The combat UI is unnecessarily cluttered. You often find useless boxes that you will not touch during combat. It looks like it was designed with the touch controls in mobile gaming in mind. I can not recall how many times I accidentally changed a character's row, which eats away precious AP.
Dead Age 2 Final Thoughts
Although Dead Age 2 claims it is a full-fledged release, I can not help but feel like it is still in early access. The developer's commitment and their transparency with their community are highly commendable and should be a standard for the industry. But the sheer amount of updates the game receives still seems like it is in early access.
The game has solid role-playing mechanics that truly deliver on player agency. Your choices matter and they have weight to them. However, the survival mechanics and rogue-like run system are both missteps that contradict each other. Especially since the game is a slow burn and gets repetitive. Additionally, the game's steep difficulty in player progression, long-winded tutorial, and cluttered UI detract from the experience.