Kao The Kangaroo does not spring immediately to mind when thinking back to the golden era of 3D platformers. Mario, Sonic, Crash, Spyro, sure. Kao? Not so much. So when news broke that Tate Multimedia was looking to revive this IP, a few eyebrows were raised. Yet, that is exactly what they did.
In doing so, they created an extremely fun, well-oiled platforming experience that, while playing it a little too safe, ultimately satisfies.
Nostalgic Tones
The late '90s were when 3D platformers really took off. The introduction of Super Mario 64 changed the platforming genre forever. Games like Banjo-Kazooie, Donkey Kong 64, and Crash Bandicoot, were incredibly popular. Huge colorful worlds to explore, copious amounts of collectible items to find, and tricky platforming sections ensured these games were fun for all ages.
The original Kao The Kangaroo was a Dreamcast game released in 2001 though it never gained much traction, despite a Game Boy Advance port later that same year. Irrespective of this though, a sequel was released in 2005 for Xbox, Gamecube, and PS2 5 years later, to an equally lukewarm reception. All things considered, it was hardly a franchise that warranted a reboot 18 years later.
In the time between the 2005 sequel and this reboot, the platforming genre experienced a lull, and despite a recent resurgence with Crash Bandicoot 4 and Ratchet and Clank: Rift Apart, the market for platformers is no longer as saturated as it once was.
Kao The Kangaroo looks to capitalize on this, by reminding us exactly why we fell in love with the genre to begin with.
Tail As Old As Time
From a narrative perspective, the game is not going to win any awards for gripping storytelling. It opens with Kao having recurring nightmares about his missing sister. So, with his mom's reluctant permission, he sets off on a quest to save her. Along the way he inherits his Dad's magical boxing gloves. With help from his friends, Kao learns to overcome his adversaries and traverse to new and exotic locations.
The story and characters are probably the game's weakest elements. Kao himself lacks the charisma of a Crash Bandicoot or a Spyro the Dragon. Despite looking the part, his personality is difficult to figure out. This is compounded by some really poor voice acting. The voice acting across the whole cast is generally poor, but none more so than Kao himself, whose voice just does not seem to match his appearance.
The other sound effects in the game though, are generally great. The music is upbeat and catchy, varying from world to world, which is exactly what is needed in this sort of game. 
Visually the game is equally solid. When they are done right, like they are here, bright and vivid games like this are always a delight for the eyes, with a huge array of colors and scenery on display. Smooth textures and a solid framerate combined for high-quality performance on the PS5 version used for this review.
The camera does sometimes have slight issues, especially if Kao is against a wall and you try to position it behind him, but these are few and far between and do not detract from the experience.
A Familiar World
The hub world is broken into different themed areas, from jungles to snowy mountains. Each of these areas hosts 3-4 individual levels to play through, with the last one hosting a boss fight.
The levels themselves are extremely familiar affairs. Tricky platforming segments combine with occasional climbing, rail grinding, and chase segments. You are never doing the same thing for too long. It helps to keep things fresh, despite the overall feeling of familiarity. Unlocking these levels requires Kao to collect 'Runes' which are scattered throughout the world. Standard stuff really, and the lack of originality could be seen as playing it too safe.
Even the various collectibles scattered throughout the world have all been seen before in other games: gold coins, the letters K-A-O, crystals, and 'runes'. It comes across as a 'greatest hits' of platformers from days gone by.
While the runes unlock levels, the gold coins can be used to purchase extra lives or increase Kao's health bar. They can also be used to customize Kao himself, with various clothing items and gadgets available. None of these will change the way Kao plays or add to his arsenal, but they will certainly keep the bouncy marsupial looking fresh!
Fight or Flight
Combat in Kao The Kangaroo is clearly not the primary focus. The basic system does its job well enough. There is only one attack button, with another used for a finisher move which can be triggered when you have done enough damage. There's a roll button, a double jump, and a stomp too. These all function really well. The controls in general are tight and responsive. Combat encounters are frequent enough but never really challenging.
The bosses are varied, but none are particularly tough to deal with. Usually having a good enough grasp of the control scheme will be enough to see you through these encounters. Those looking for a truly tough platformer that tests your skills to the absolute limit, such as Crash Bandicoot 4, will not find that level of challenge here.
Kao's magical gloves can switch elemental properties which can be used to help traverse the environment. Flame gloves can melt ice, ice gloves can freeze water, and so on. Strangely though these elemental changes have no impact on your damage output, they are purely for environmental changes only. They do help to introduce some fun puzzle elements though, and some of these light puzzle-solving parts break up the platform segments perfectly.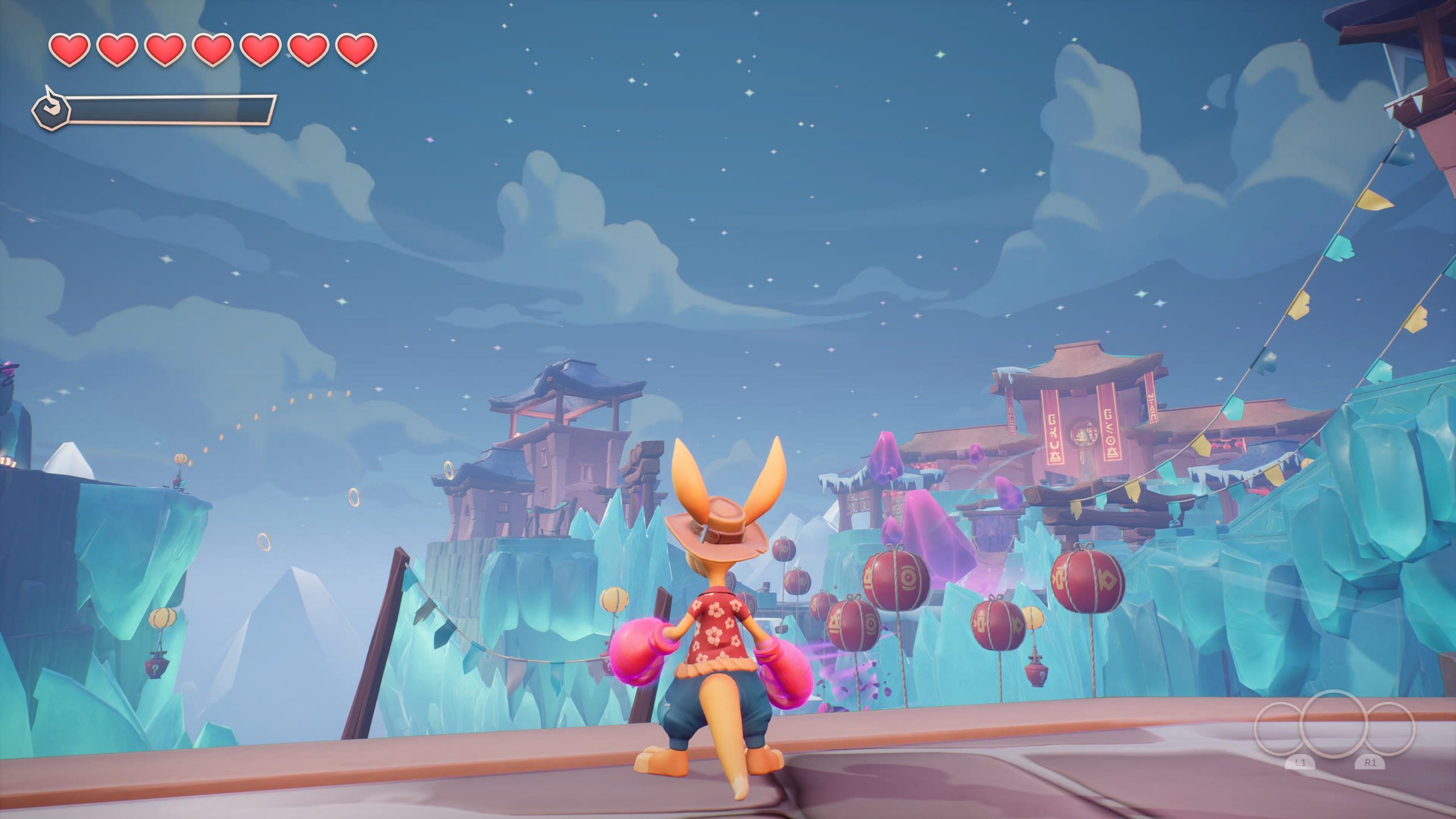 Final Thoughts on Kao The Kangaroo
Ultimately, the main reason people play video games is to have fun. And Kao The Kangaroo delivers this in abundance.
There is a fine line between taking inspiration from something, and just plain copying something. Kao The Kangaroo walks this line very precariously, and a couple of times it does verge on copying. Particularly collecting the letters K-A-O in each level, and the chase segments where Kao is running away from something towards the camera, have pretty much been lifted straight from other platformers (Donkey Kong and Crash Bandicoot, respectively).
Despite the lack of originality though, Tate Multimedia have successfully created an extremely well-rounded platformer. Ticking all of the main boxes for visuals, gameplay, and aesthetics, it's a slick, modern take on a beloved genre. If you're willing to overlook a bland protagonist and a forgettable cast of characters, you will find a lot to love about Kao The Kangaroo.
Note: A copy of this game was provided by the developers for the purposes of this review.