At this year's Tokyo Game Show, Square Enix brought not one but two demos for the upcoming Final Fantasy VII Rebirth. The second installment of a Final Fantasy VII Remake anthology, Rebirth picks us up where we left off in Final Fantasy VII Remake Intergrade.
Fated Beginnings: Sephiroth & Cloud
Fated Beginnings: Sephiroth & Cloud is the name of the first demo and takes place during a flashback where Tifa, Sephiroth, and Cloud are traversing a linear path together along with a random soldier. This time around, you do get to play as Sephiroth, while Tifa is dressed in cowboy gear and a mini skirt. This short of part of the demo eventually leads to a boss battle. Here is where you will take on a Materia Keeper. You do get to control both Sephiroth and Cloud. 
Aside from a new tag team-style attack you get to do with Cloud and Sephiroth, this is more of the same from Final Fantasy VII Remake Intergrade. You walk down the path, climb ladders or rocks, and find hidden chests, not much is different within the core game including the combat. Although almost right away, I noticed that there were minor improvements to the character models. While the first part of the remake is a beautiful game, it was built for the PS4 sometime in 2017. With the PS5 and some time in the mix, it seems like the development team has been able to improve a great-looking game.
Finally, this flashback serves to show the player what the relationships were like before things went south. As far as the story goes, it does not seem like much has changed from the original 1997 game. Although I was playing a modern remake in Japanese, it would be impossible to compare 25-year-old localized dialog.
The World of Final Fantasy VII Rebirth: Junon Area
In this separate demo, you will play as Cloud, Barret, Red XIII, and Tifa in a semi-open world map. You can use a Chocobo to quickly traverse around the area which is hilarious to watch Red ride one. The semi-open space is dramatically different than the linear paths. There are a ton of little things you can do in this area, with a lot of small crevices to explore. It is a real change of pace from the straight paths you normally see throughout Final Fantasy VII Remake.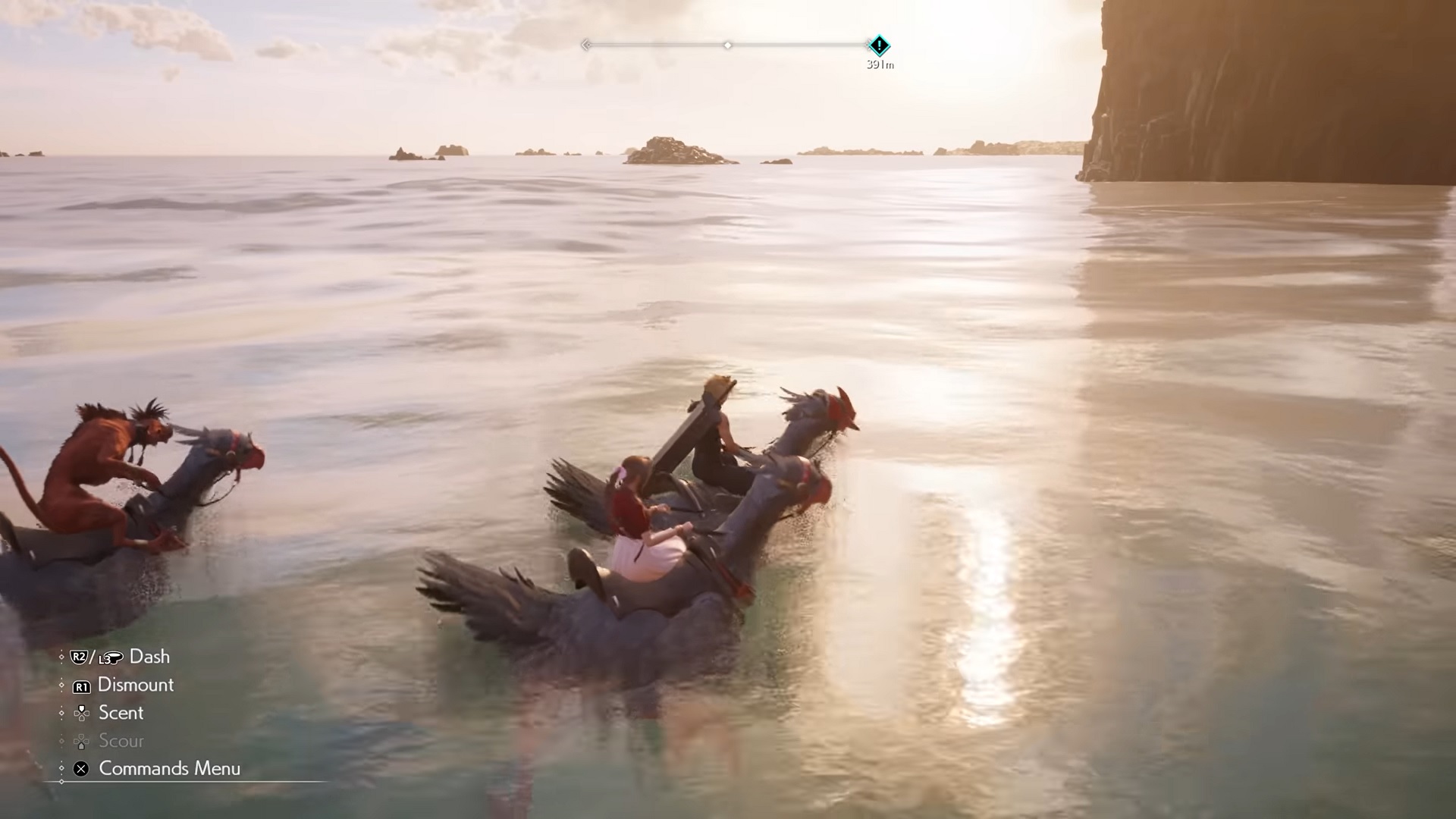 Eventually, it will lead you to a boss fight where you will fight Terror of the Deep as well as encounter Yuffie. The open world was stunning, how much you could do was a nice surprise. With that said, the boss fight is more of the same. Although the FF7R boss fights have been exceptional. Just nothing new to note here.
More About The Game
Final Fantasy VII Rebirth releases on the PS5 on February 29th, 2024. It looks like Square is using higher texture assets for sure as the game will come on two discs and require 150GB of space. Producer Yoshinori Kitase says, (spoiler warning) Rebirth will end at the Forgotten Capital. It will take you around 40 hours to reach that part down the main path. Or somewhere between 80 to 100 hours to complete everything in the game. Additionally, there will be a 60 FPS performance mode and a 30 FPS visual quality mode.
It is still not clear if the team intends to make changes to the story, or if this will stay within the bounds of the original game from 1997. At the end of Final Fantasy VII Remake Intergrade, there was a moment where it appears things really change but, we haven't seen material story changes, just visions and flashbacks. With Rebirth, it is likely we find out if the intention is to tell a new story or re-tell the same story. Kitase told the BBC this week, "What happens there is going to be a big surprising development, . . .and a hook to get people interested and motivated to want to see what happens in the final part of the series." It feels like a swerve is coming that will change the story and have this collection of remakes become something new entirely. 
We will know more when the game launches in February. In the meantime, given Square's track record, it is likely the demos we played go public sometime around the holidays. Square has been releasing a demo for nearly all of their big-budget AAA games this generation.