Earlier this year we reviewed the ultra-cool Gamecube-inspired NIXY Wizard controller for the Nintendo Switch. NYXI is back with the Hyperion Pro Meteor Light controller. The rationale for this model comes from the high-quality parts not found in a traditional Joy-Con. The Hyperion Pro features Hall Effect joysticks, which prevent Joy-Con drift. Along with backlit buttons, replaceable thumbsticks, and improved ergonomics. 
What Do I Do With All These Extra Buttons?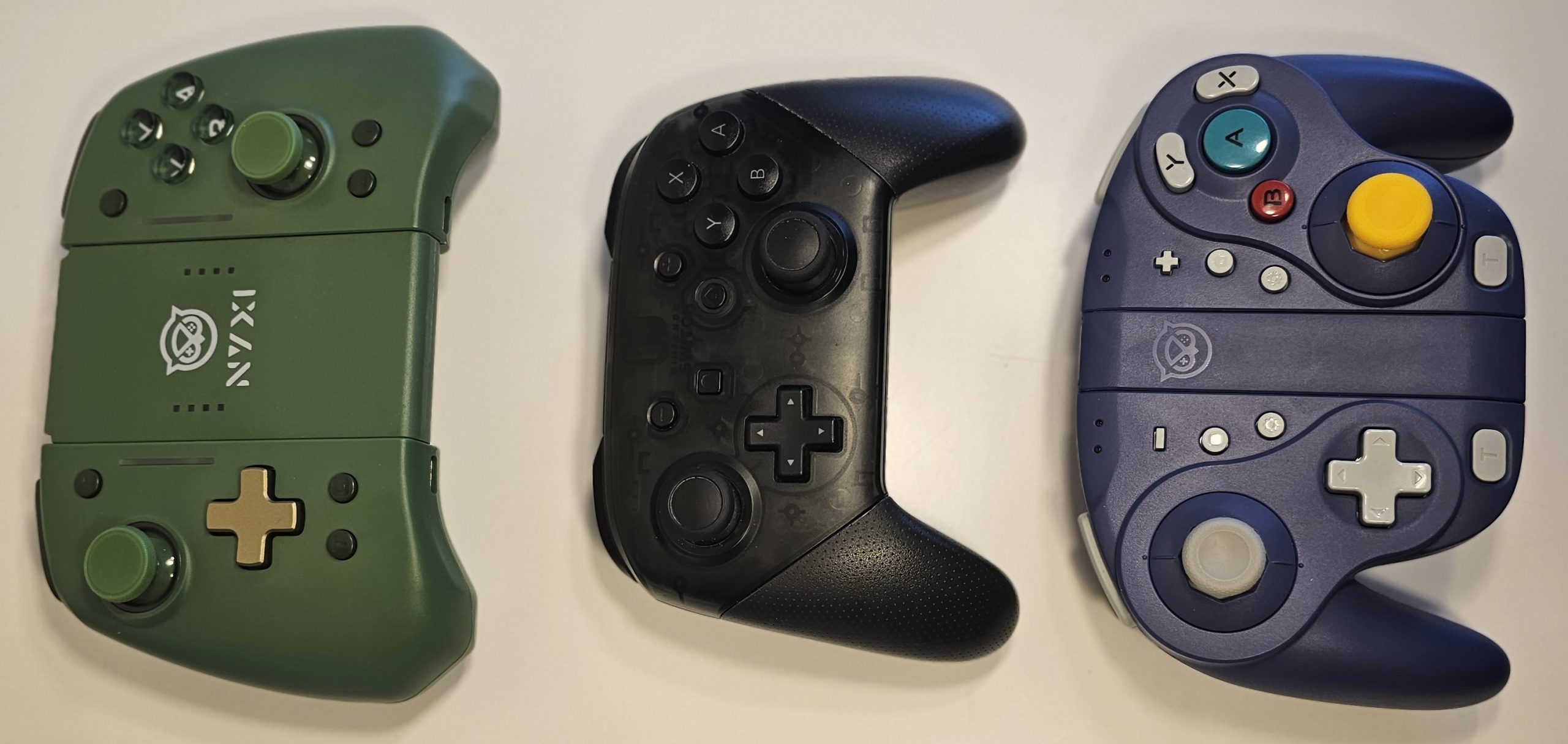 The Hyperion Pro functions just like a typical Joy-Con as you can play docked, split, or handheld. Likewise, it can be charged while docked, or via the USB-C ports at the bottom of each controller. Also, just like a traditional Joy-Con, you will have a motion-sensing gyroscope, HD rumble (you can toggle off), and all the standard buttons. In addition to the standard buttons, there is a T button for taste that will allow you to change the LED lighting scheme, back buttons for games that support re-mapping, and a macro button to program auto input. As well as a directional pad replacing the left Joy-Con buttons.
Personally, I could go without all of the extra buttons. I do not need back buttons for any game on the Switch. I do not need to program macros (although I understand how this could be an accessibility feature for disabled players). Finally, I really do not care what color lights are on my controller. So many of the features are irrelevant to me, and I expect the same for the average player.
With that said, the Hall Effect joysticks are designed to ensure there is no more Joy-Con drift. While the OEM factory Joy-Cons with a grip cost $95, the Hyperion Pro is more welcoming at $62.99. Even without the grip, the Hyperion Pro is $17 cheaper than a pair of Joy-Cons. Plus it costs $7 less than a Pro Controller from Nintendo.
How Does the Hyperion Pro Feel?
Undoubtedly what is more important than the looks and cost is, how it actually feels. The NYXI Hyperion Pro is probably twice the size of a typical Joy-Con. In contrast, the controller protrudes in your hand almost like a baseball with its large round edges. If you have smaller hands this may put you off. With my larger hands, I found it to be more comfortable. However, the larger controller means that it will be less likely to fit in your current Switch case. By the same token, the out-of-spec size means it is unlikely to fit in any Switch console case. 
As for the buttons, they feel great. Sometimes with these third-party controllers, the buttons can feel off or cheap. That is not the case here with the Hyperion Pro. The larger joystick helps me with accuracy in Super Mario Bros. Wonder. When it comes to the triggers they actually feel much better than the standard Joy-Con triggers or even the triggers on the Pro Controller. This is not a cheap knockoff. It is a cheaper option with some real high-quality hardware. 
Pros
No Joy-Con drift

Larger form factor for adult hands

Improved triggers

Directional pad for retro games and platformers
Cons
Will not fit in most Nintendo Switch console cases

Irrelevant buttons

Most likely not the right fit for kids due to size
The Hyperion Pro can be purchased here. While the website says pre-order, NYXI does ship fairly quickly. I received my controller in under a week. It has been a great help when it comes to Super Mario Bros. Wonder for sure.