Little Goody Two Shoes is an isometric horror adventure game developed by AstralShift. Goody Little Two Shoes is a game that has caught me off guard. It's a game that balances two different tones and shifts between them so seamlessly. While also ensuring nothing feels jarring. It is a game that feels half-life-simulation, and half horror. With a very nostalgic art style that meshes well with modern graphical techniques. As well as stellar characterization that made me feel for some of the characters for the limited time in the demo. Here is what you can expect of the game!
Elise of Kieferberg
Little Goody Two Shoes takes place in the village of Kieferberg, where an elderly lady finds a baby abandoned in the woods outside of the village. She tends to the baby until the day she passes away, leaving Elise at a young age. This opening while it was short, took its time and really showed off the dynamic between the two. It allowed me to get invested in the position Elise found herself in after the one who cared for her passed away. However, being left alone to the adult world at a young age made Elise very jaded. So much so that she is kind of a prick. Her attitude is reflective of her living situation but the way she treats others felt jarring at first.
But as the game's story went along and started getting into the horror aspect of the game. I actually started to care for her more as she finds herself in dangerous situations, she cannot make heads or tails of. A vine trying to pull her into a wall, a creature trying to kill her in a cave, and even being stuck in a pristine mansion with killer candles. It is a lot to take in, and she can't figure out if any of it is real.
Outside of the story, you will be partaking in some life-simulation activities between story events.
The Day to Day in Little Goody Two Shoes
When you are let go to do anything in the game. You can partake in a lot of different mini games that are offered from various characters in the game. For instance, there is a chicken mini game where you have to take eggs and shoot for the highest score to make the most money. You can use money to buy food to keep Elise fed and other items to heal her if she takes damage in the horror segments. You can also go on dates with certain people, but the demo only had one instance of that happening. So, I am not sure how far that system goes. However, doing any of these activities takes out portions of the time you have each day. With nightfall being dedicated to the horror segments.
The overall game falls into an easy to grasp routine with an interesting set up. I had fun with what was available in both parts of the demo.
The mini games have their own unique style and separate simple gameplay to adjust to and it was always enjoyable. A same level of care was given to the technical aspects of Goody Little Two Shoes.
Flawless Presentation and Performance
I played the demo for Little Goody Two Shoes on my Steam Deck. The demo only lasted a few hours and only ate up half of the device's battery. With the performance counter I noticed no performance issues at all. It is a very simple game so the minimum and recommended specs are very low for this game, so you should not have an issue with the game wherever you play. I had no crashes, no stutters, and no freezes either.
I also really loved the game's UI, as well as how text and the vendor menus are laid out. Even some character interactions have portraits that help clarify the scene beyond the text on screen.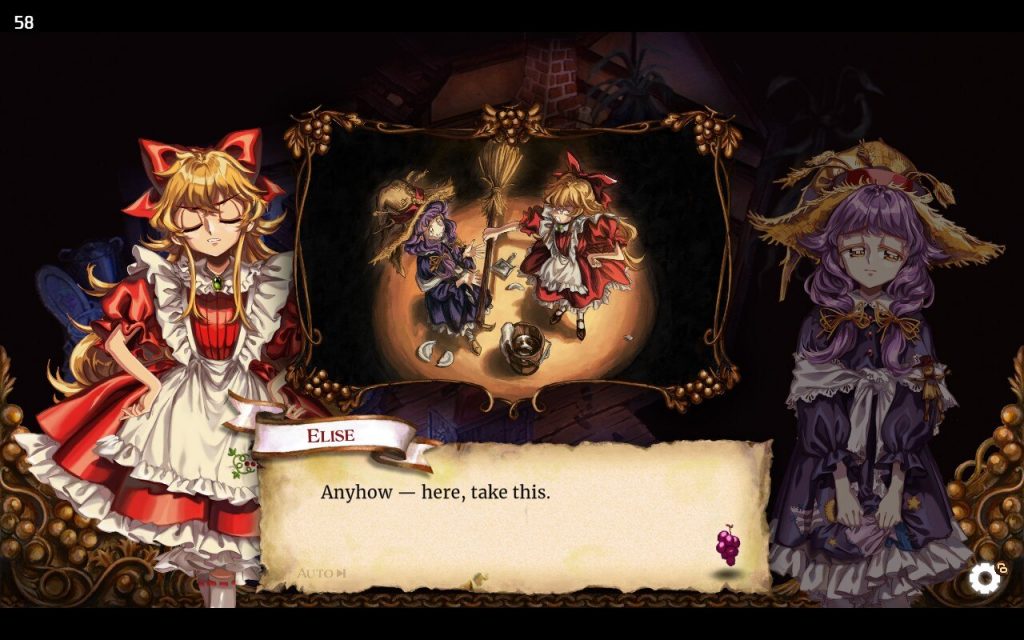 The menus were easy to navigate, the controls are easy to understand and despite not being a fan of how the voice acting plays out in the game. There is a toggle to remove voice acting entirely. Considering there will be just a few words here and there voiced over for certain reactions. It is not bad for those who enjoy that minimalist approach, but a lot of people might end up toggling it off. The voice actors did a great job with what they were able to do. But it might not work for everyone. The music on the other hand was pretty good. It fit every scene from the serene day to day activities, to the scary story moments.
Final Remarks on the Little Goody Two Shoes Demo
Little Goody Two Shoes always impressed me with the short time the demo provided. It is going to be priced at $19.99 so I can very much recommend it when it launches on Xbox Series X|S, Steam, Nintendo Switch and also available on PlayStation 5 on October 31st. It is going to be a game very much worth playing on Halloween!