As hype and anticipation begin to build up to the next generation of hardware from PlayStation and Xbox. Many have been reflecting back upon their favorite games and moments of this generation of consoles. This generation was a huge step for the industry as we saw developers rise from their failures and become megastars again. Capcom's resurrection has been a one of a kind comeback story, as the company is entering what appears to be a new renaissance for their games. Then we had breakout developers such as CD Projekt Red who made one of the best RPGs of the generation with The Witcher 3. There are a ton of games that could represent someone's personal game of the generation. For myself personally, there is only one game that I can say was my most timeless experience. That game is God of War (2018) from Sony Santa Monica, it was a title that in my opinion defined the PlayStation 4.
Bringing a Classic To The Future
The God of War franchise first launched all the way back on the PlayStation 2 in the year of 2005. There have been 4 mainline games God of War, God of War II, God of War III, and God of War: Ascension. As well as two PSP games with God of War: Chains of Olympus, and God of War: Ghost of Sparta. There was also a mobile spin-off game called God of War: Betrayal back in 2007. The mainline games were fun, aggressive hack and slash adventures as you guided Kratos on his journey for revenge. The formula, unfortunately, was starting to run stale, as it became evident with God of War: Ascension. While Ascension is not a bad game by any means, it just felt way too similar to past games. It was clear that the God of War franchise needed a fresh coat of paint and some new parts.
Enter God of War (2018), originally revealed at E3 2016 to thunderous applause. We were introduced to a much older version of Kratos with a small but eager boy at his side. The biggest change of all was the fact that they were no longer in Greece anymore. The switch to whole new mythology was a brilliant change, which honestly was necessary. If not only for the fact that Kratos had basically killed everyone in the Greek mythos. The game looked like it was attempting to take a ton of risk by changing a lot of what we had come to expect from a God of War game. While I was apprehensive at the time, I quickly became a believer once I got my hands on the game. It remains the highest-rated game I have ever reviewed with a 96. From front to back it was one of my favorite games this generation.
World Building And Setting The Tone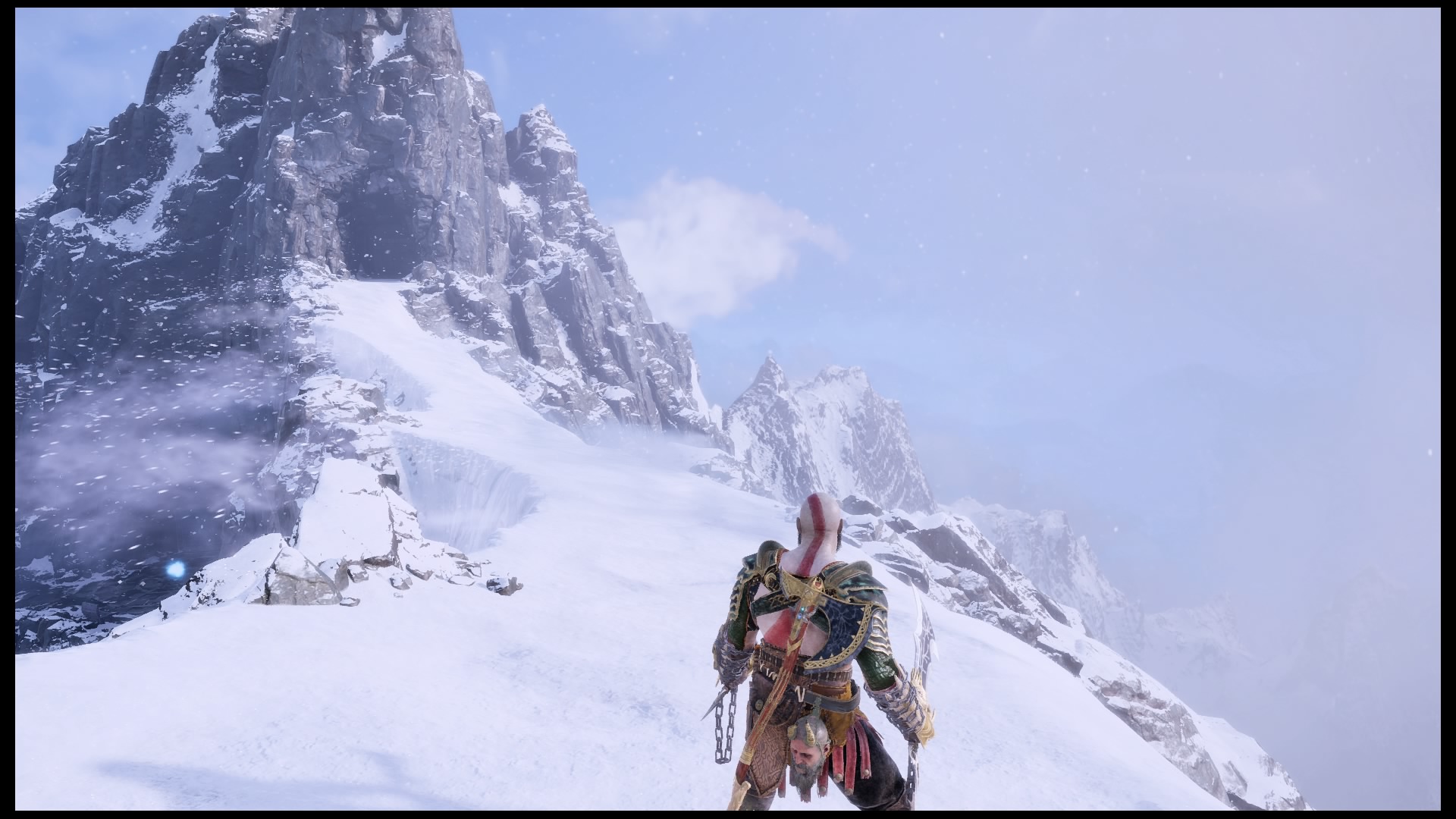 Ancient Norse mythology is rich with a wide breadth of characters that Sony Santa Monica could dive into. The real beauty of God of War was the fact that they were very reserved about which gods they revealed. You spend most of your time dealing with Baldur, and Thor's two sons Magni and Modi. These are the only gods you face within the game, and in Norse mythology, they are considered the weaker gods of the realm. Gods like Odin, Thor, and Hel do not make appearances within the game. However, Mimir provides plenty of background storytelling about these gods and their abilities. Mimir plays such a crucial part in the entire immersion of the lore within God of War. He tells stories to Kratos's son Atreus throughout your traversal of the land of Midgard and beyond. Whether you are a Norse mythology nerd like myself or know practically nothing about the ancient mythology. You will learn more about the gods and how they interact with one another, and also provides fan service moments from previous God of War titles. There is an interaction between a lost spirit and Atreus, where the spirit speaks of his son stabbing him in the back and killing him. Atreus is absolutely horrified and says to his father "How could anyone kill their own father?". Kratos grumbles quickly that they only know one side of the story, but this moment captures a difficult moment for Kratos. His lack of transparency with his son about his past throughout the game is a subtle nod to players who know the stories. It's brilliantly written and gives the player a sense of dread when Kratos will eventually have to reveal the truth to his son.
The voice acting performances breathe fresh life into the God of War universe. While I had reserved thoughts about a new voice actor to take over the role of Kratos, Christopher Judge gave one of the best voice acting performances I have seen in recent memory. His signature "boy" call became a long-running meme which was even referenced at the 2018 Game Awards. The supporting cast was phenomenal as well, nut the banter between Mimir and Atreus was timeless. Sometimes it even devolved into childlike toilet humor which was hilarious to watch Kratos have to tolerate it along their journey. There was a perfect balance of both humor and dark subject matter throughout the game. The sense of urgency mixed with occasional humorous moments made me really think back to the original Lord of The Rings trilogies. This also did a fantastic job of never losing sight of how serious the situation at hand was, but always finding a little bit of humor in the darkest moments. Part of what makes us human or in this case "gods" is the ability to find humor when things seem bleakest.
Kinectic and Meaningful Combat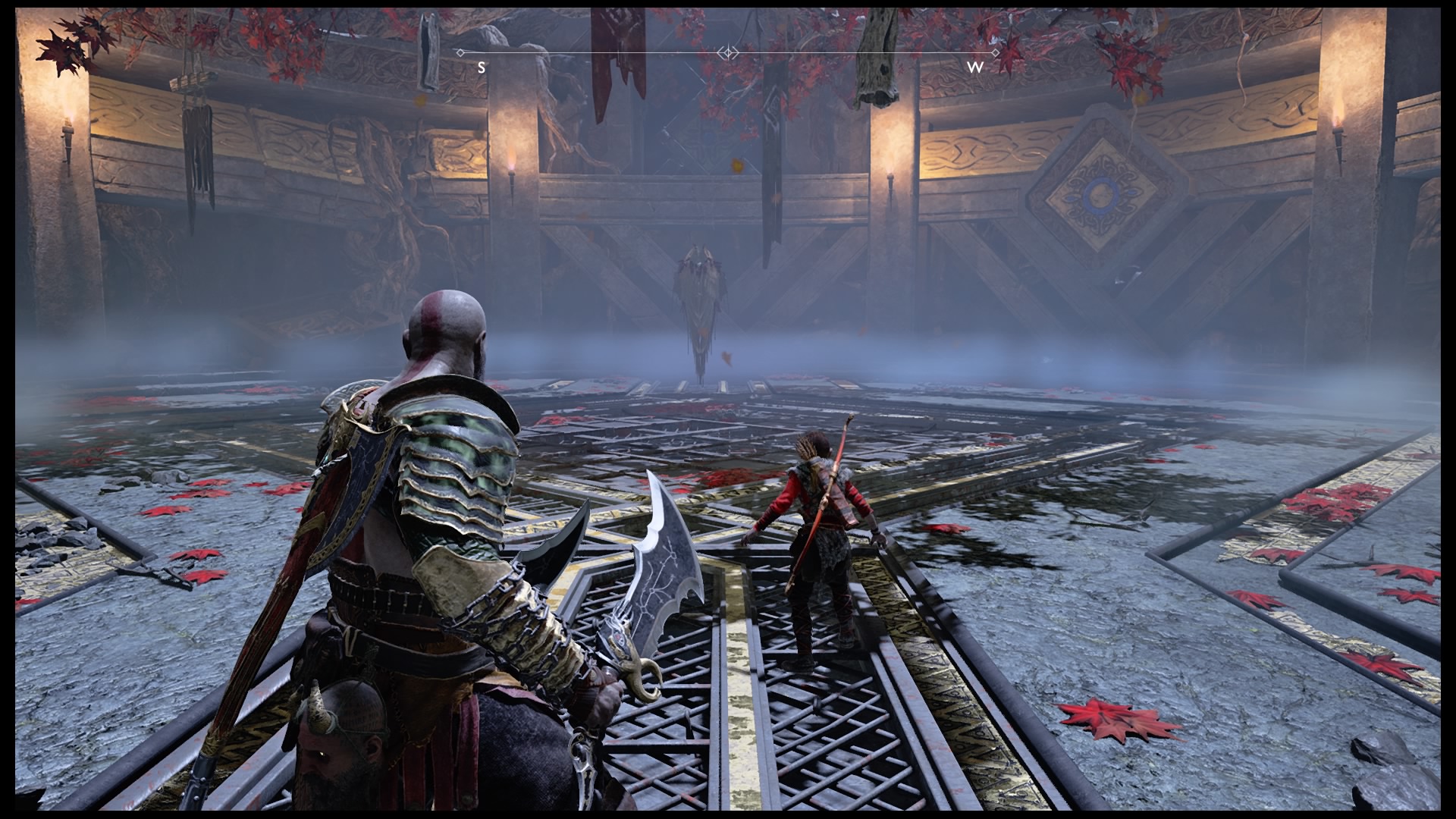 The God of War franchise was built around amazing boss fights against ancient gods, paired with some of the best 3rd person action gameplay. We have been blessed with a ton of great 3rd person melee-focused combat games this generation. Two of the most notable of these games are Nier Automata from Platinum Games and Devil May Cry V from Capcom. I do not think comparing these three games against each other is a worthwhile argument, but to say these three games represent some of the best melee combat of this generation is an absolute must. God of War focuses heavily on the player's choice of how they want to tackle their battle scenarios. With each encounter allowing a different approach to how to tackle each boss battle or minion encounter. You can build your skills and kit around heavy runic attacks and rely heavily on the Blades of Chaos. Or if you prefer to fight at distance throwing and recalling the Leviathan axe, then using your bare fists to pummel opponents senselessly.  God of War's depth of combat really shows its colors especially on its higher difficulty levels where enemies deal massive damage in very quick bursts. It forces you to approach even the smallest enemies in a precise and thought out way. Conserving heavy runic attacks to finish off dangerous enemies quickly, while having to balance out facing multiple minion type enemies with your basic combos. Each individual hit has weight to it, with heavy attacks sending enemies staggering backward. The addition of Spartan Rage which turns Kratos into Conor Mcgregor in which you absolutely decimate your opponents instantly with your bare fists.
The added RPG elements within God of War enhance the combat exponentially. Your gear plays a huge part in how Kratos is able to tackle each encounter. Whether you build and upgrade your gear to focus on heavy-hitting base combos with high health. Alternatively, you can focus on high damage runic attacks with a high cooldown reduction to keep those big attacks coming back quicker. There are massive advantages and disadvantages to these build styles. You would find yourself at an advantage during some encounters and then at a disadvantage during other encounters. This became very apparent when I began the side quest of hunting down the nine Valkyries. Each Valkyrie provided a unique set of skills and attacks. Using the same gear and tactics didn't necessarily equate to success. Throughout the game, I was constantly switching around my gear and their enchantments in order to adapt to a specific scenario.
One of The Best Super Hero Fights In Gaming
Very early on in the game, you are visited at your home by a man who is simply called "The Stranger". He is a very unassuming figure, who is smaller then Kratos and appears very unintimidating. He constantly pushes against Kratos egging him to fight him by repeatedly striking him. Kratos finally snaps and punches the stranger back sending him flipping back a few feet. The stranger then hits back at full force catapulting Kratos up and over his house landing on the other side. This boss fight has three phases that blend introducing you to battle mechanics such as Spartan Rage while also testing your skills early on with timing your blocks and dodges. As you battle with the stranger, you punch and throw each other through boulders, trees, and eventually crack a fissure through the earth. The scale of destruction created by these two gods is what we imagine what would happen in a real-life superhero fight. This fight also gives us our first look at Kratos looking outmatched. Like Danny Glover's character Roger Murtaugh from the Lethal Weapon franchise, clearly Kratos is getting too old for this. While this is one of many encounters that the player will have with the stranger, this is by far the most memorable. It set a true tone for the rest of the game that they were no longer in ancient Greece anymore, and Kratos may not be up to this challenge anymore.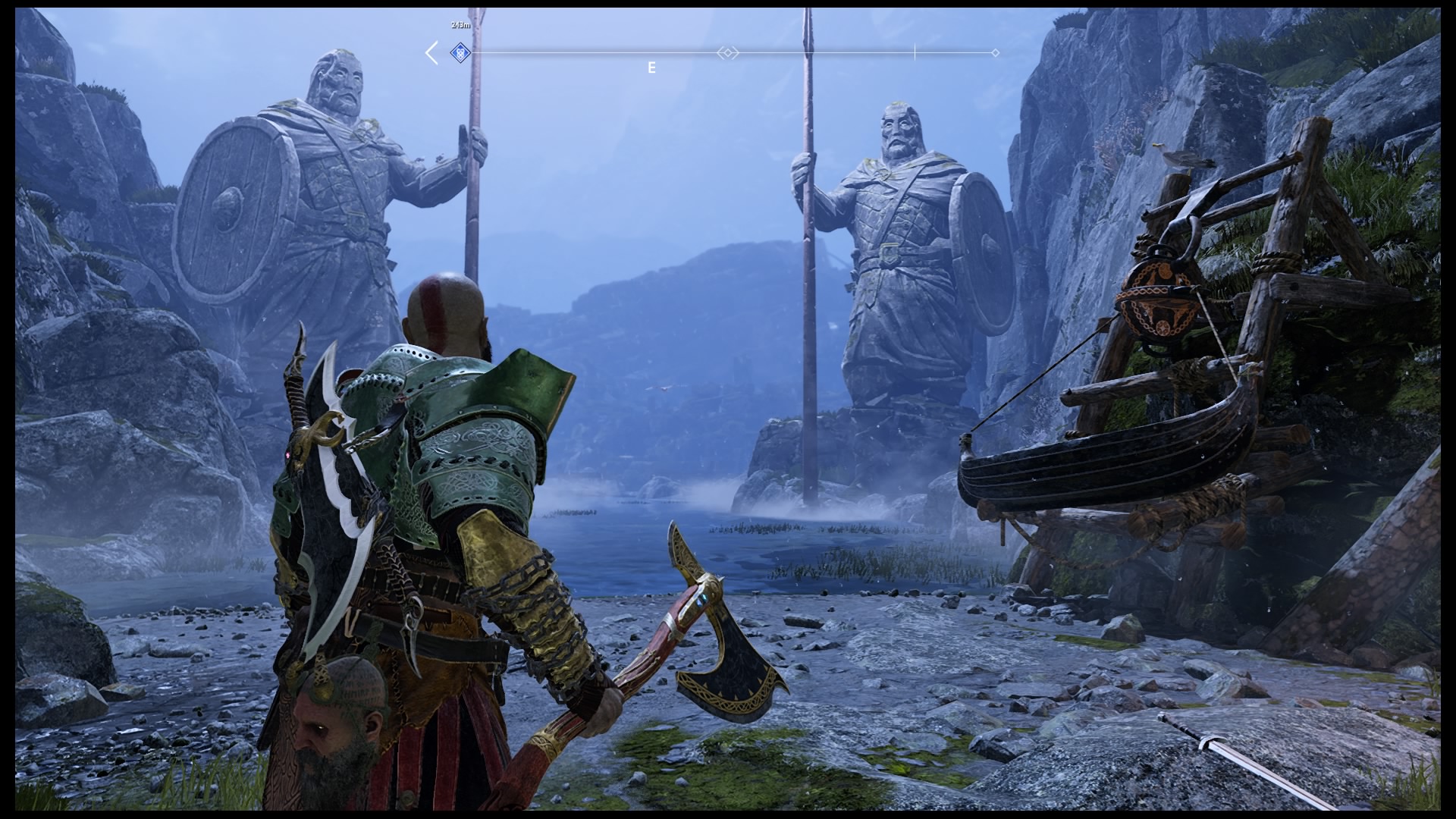 The Family Dynamic
There was something rough and real about Kratos' relationship with his son Atreus. He was always battling internally with his own demons about what he did in his past. Throughout the game, Kratos appears to have remorse and sadness for what he did to the gods of Olympus. He doesn't want to have to kill and fight anymore, he is tired of the god of old who seeks nothing more than power and the ability to one-up each other.  He wants to raise Atreus to understand that empathy can get you killed but also anger and hatred can lead you down a separate but just as dangerous path. The ever-constant internal struggle to not tell his son about his past while also trying to keep him on the right path really hit home. As a father, the stakes may not be as high for me as they are for Kratos and Atreus. The constant struggle you always have as a parent is "Am I doing right by my child, and am I leaving them with the skills to carry on when I am gone?" Seeing these emotions portrayed by Kratos who is typically viewed as a very one-dimensional character made him more relatable than in previous titles. During a segment in the game Atreus' rage gets the better of him and the child falls ill. There is a level of panic in Kratos that while he is a god shows his compassion and love for his son, in a way that he never quite vocalizes. He is tough on his son out of love because he wants Atreus to live on well past him. While we as parents may never openly vocalize this feeling, the desire for our children to outlive us and find good fortune is the ultimate goal of many parents.
In Conclusion
The steps made forward in Kratos' character development, as well as the introduction of his son, will no doubt play a major role in the sequel to this game. The tight and precise combat made every encounter exciting and tense. A unique world filled with legends, gods and monsters we have never seen portrayed in games before. All of this culminates into what makes God of War my game of this generation, and one of the most defining titles on the PlayStation 4.