Doom (2016) is often considered to be one of the best FPS games of this generation. It was the return to glory that Doom so desperately needed. When it was announced that a sequel, Doom Eternal was being developed I had some concerns. With how amazing Doom (2016)'s action and gameplay was, how could they p
ssibly top that? Well now with over 25 hours of time with Doom Eternal I feel comfortable in giving my full thoughts. Does Doom Eternal live up to the high standards set by its predecessor?
Gameplay 
Doom as a franchise has always been primarily based around the combat and gameplay loop. Doom Eternal is no different, it has plenty of new aspects that diversify it from its predecessor. The first immediate thing I noticed upon entering Doom Eternal was the game felt "faster". This seems insane to say, as Doom 2016 was one of the most frantic FPS shooters of this generation. Doom Eternal felt even more fast-paced with a heavy focus on maneuvering and picking your battles.
New and Improved
The game builds on the glory kill system which players use to regain health. The addition of the flame belch equipment that lights demons on fire, and causes them to drop armor for the player. A heavier focus is put on using the chainsaw to resupply ammo more frequently. As well as a new ability called blood punch which is built up from glory killing enemies. Once you have the ability charged you unleash a devastating melee attack that levels mob level demons and can stagger even some of the toughest foes.
Combat Balancing
Doom Eternal forces players to adapt their playstyle to each situation. There is no one weapon or playstyle that you can use to blast your way through each level. Each enemy provides its own set of challenges, and different weapons are better suited for certain enemies. The introduction of demon "weak points" was a huge step forward in how players could attack each situation. As the game throws a wide variety of demons at you, eventually you will start prioritizing certain demons. For example, I often would leave Cacodemons flying around amongst mobs as a quick health boost. With these enemies being quickly staggered with the grenade shotgun attachment, it let me focus on more dangerous foes.
There is a heavy focus on verticality within the game's core design. While traversal has platforming segments that are well done. In combat, it is an asset if you master the movement system very quickly. A lot of the most powerful demons in the game are slower then you are, which means you can frequently outmaneuver them and thin out your enemies so you can tackle each situation. This becomes an absolute necessity on higher difficulties, and how fast you can cycle your weapons can be the difference between life and death.
Upgrades Worth While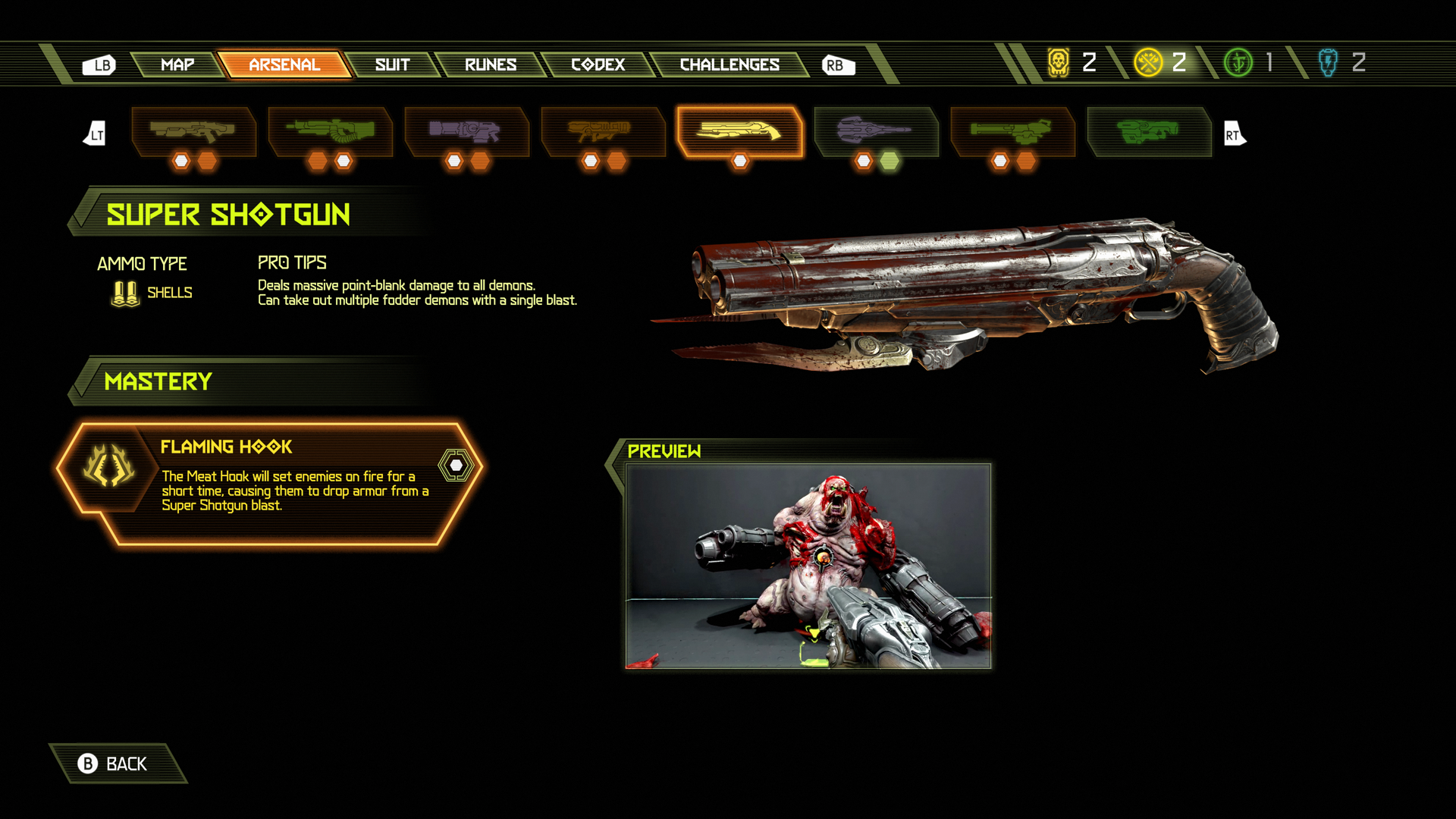 While the gameplay loop is rewarding, the upgrade system was slightly changed in Doom Eternal. It was a positive change however, this was especially apparent with the weapon mods. In its predecessor, the rewards for completing a weapon mods mastery challenge didn't really give noticeable buffs to the weapon. However, in Doom Eternal, you will want to rush to complete some of the mastery challenges as quickly as you can. They can be very useful in the later parts of the game. The Super Shotgun mastery reward allows you to set demons on fire when you hook them with the alternate fire of the weapon. Which pulls you towards the enemy as they drop armor and you can easily dispatch them with the shotgun. This can be a saving throw when you are knee-deep in demons and need to get some distance between a pack of enemies and with some armor to boot.
Level Design Leaps and Bounds Improved
Doom Eternal tackles level design in a brilliant way. One of the coolest aspects of Doom II back in the day was the sheer verticality of some of the levels. It was insanely impressive back in 1994. This appears to have been a big focus during the development of Doom Eternal. With wide sprawling levels that can quickly go from wide-open areas packed full of demons to tight and confined hallway spaces. It truly felt like a step forward in design. It made the levels feel less similar which was one of my complaints with Doom 2016. All the environments quickly felt all too familiar and lacked a true sense of verticality. The variety of worlds from the depths of hell, all the way to a frosty ice level. Each level felt like a truly new and unique experience within the game.
Graphics/Performance
Doom Eternal is a technical marvel to play. I don't say this often with games, but sometimes developers will focus on graphical fidelity over performance. There is an endless list of games this generation that pushed the graphical bar higher. Unfortunately, this leaves us with visually impressive games with choppy 30FPS or sub 60 FPS performance on a console. Doom Eternal breaks this spectacularly by presenting an absolutely gorgeous visual showcase. The game has some of the best HDR implementations I have seen in recent memory. On top of this, the game runs at 60 FPS across all consoles. Whether you are on a base Xbox One or playing on the Xbox One X model. You are guaranteed a smooth performance.
The art design in Doom Eternal is truly one of the most beautiful aspects of the game. Levels are exponentially more open than in the previous Doom title. The art team at ID Software did a beautiful job of filling out large open levels with gorgeous set pieces. Seeing giant mechs fighting decaying demons, or seeing massive titan demons roaming in the background of levels as you rip and tear through endless waves of minions.
Audio/Soundtrack 
Doom Eternal may have one of the best soundtracks in gaming. It should not come as a surprise considering the wicked mind of Mick Gordon is behind it.  With such memorable soundtracks under his belt from, Doom (2016), Prey (2017) and Wolfenstein: The New Order. The music hits you in the chest as demons fly, run and blast their way towards you. The addition of a choir really added a whole new dynamic layer to the soundtrack. When entering massive church set pieces with metal music blasting, and a choir striking an almost holy tone to it. It's a masterful soundtrack that somehow manages to top 2016's. It truly is a masterpiece work from Gordon.
The audio and sound design of Doom Eternal is no slouch either. I did two separate playthroughs of Doom Eternal in order to fully experience the game. The first run-through was with the standard Doom Eternal sound pack, which provided well-rounded weapons and demons. The weapons sounded powerful, and hearing demons scream as you punish them with your weapons. I cannot even explain the joy I felt in my second playthrough while using the classic sound pack. Hearing the old school chainsaw boot up as a sawed a demon in half, to the OG Super Shotgun reload sound. It was a high-quality experience no matter which packs you used. The level of fan service in regard to this aspect was phenomenal.
Story
Doom as a whole, has never been overly known for its storytelling. However, the lore behind Doom is expansive both from what the developers have created. As well as the fan theories that have long fueled the Doom community. In Doom Eternal, you carry on from where you left off in Doom 2016. The legions of hell are descending upon Earth and it is up to you to do battle with them. You spend much of the game hunting down two Hell priests who are behind the demonic presences on Earth. The story does enough to keep you involved but doesn't overstep the fact that many people play Doom for the story alone.
As a long time fan of Doom, I found myself spending a lot of time reading the codex collectibles I found around each level as it provided a deeper understanding of the motivations of characters within the game. However, it is very jarring that a game that is as action-packed as Doom relies so heavily on you picking up and reading lengthy documents. I wish this had been streamlined better because the lore aspects of the game were very interesting. It's a shame a large number of players won't experience that due to so much of it being tied to collectibles.
Summary
Doom Eternal is one of the best FPS games in the past decade. Meaningful upgrades, beautiful and creative worlds with an endless sandbox of demons to kill. Whether you are a fan of the franchise or if this is your first Doom game. Doom Eternal is an absolute masterclass of first-person shooter game design and is an early contender for game of the year.