Today HP is announcing an update to some of their most popular desktop PCs as well as additions to the ever-growing OMEN wireless gaming accessory line-up. We have a first look at their new keyboard, headsets, and mice. HP also has a couple of new monitors for those looking to get the most frames while gaming in addition to upgrades on their gaming PC's
HP Gaming Monitors
What you view your games on is as important as what you're system. With that in mind, HP is announcing two monitors to their gaming line-up of screens. The HP X24i and HP X24ih are 24″ IPS panels sporting a 144Hz refresh rate. With The micro-edge bezels, if you chose to mount the monitors side-by-side on their stands or with the Vesa mounting option in a duel monitor setting, you'll have an almost seeming viewing across both screens. Both the X24hi and X24ih have a resolution that is 1920 x 1080 Full HD (FHD) with 350 nits of brightness and a one millisecond (1ms) response time. Included on both monitors is AMD FreeSync, which allows fluid, responsive gameplay by synchronizing the refresh rate between your gaming device and the monitor. HDMI 2.0 and Displayport 1.2 connections are available on both models as well. The difference between the X24i and X24ih is the stand. The X241 has a tilting display stand while the X24ih has tilting and height adjustments. The HP X24i will be available on October 4, 2020, for $229.99 (USD). The X24ih will also be available on October 4, 2020, for $249.99 (USD).
OMEN Desktops welcome Nvidia Ampere Graphic Cards
HP's Omen 30l line-up will be upgrading to the new Nvidia Geoforce RTX 3000 series cards. You'll have the option of getting a prebuilt system with either the RTX 3070, RTX 3080, or the RTX 3090! The designs will be upgrading the power supplies as well. Each unit will ship with a 750 watt Platinum to meet the requirements of the new graphics cards. As of the time this article is released, HP was unable to provide performance specifications for each system as the Nvidia RTX series is under embargo until September 16th. The 30L series will be available Holiday 2020.
Time To Go Wireless!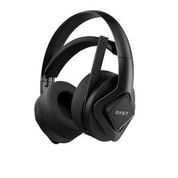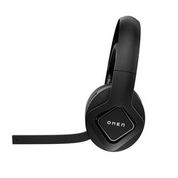 HP has you covered for full immersion for your gaming needs with a collection of wireless accessories. The first up is the OMEN Frequency Wireless Headset. This headset provides an immersive experience with 360 degrees of spatially aware 7.1 Surround Sound. The Frequency provides lag-free audio with what HP is calling Warp Wireless Technology over 2.4 GHz wireless connection and is light-weight (.96 lbs) to provide comfort for those long gaming sessions. Speaking of long gaming sessions, battery life is listed at 30 hours and is rechargeable with a USB-C cord. Frequency comes with a flip-up duel mic and is compatible with your PC, and  PS4, in wireless mode. Connection to an Xbox will require a 3.5mm cord. When using this with your PC, you can use the OMEN Command Center to adjust lighting, set specific audio settings in the OMEN Audio Lab, and monitor battery life. The OMEN Frequency will be available December 2020 for $169.99(USD)
Vector Wireless Gaming Mouse FTW
If you're a PC gamer, the new OMEN Vector mouse has your back. When I reviewed the Photon Wireless Mouse, one of the items I wish it had was a place to store the USB dongle. I'm guessing I wasn't the only one as HP has added that feature to the Vector. Now, you can rest assured you won't lose the dongle when taking the mouse on the road. The Vector does come with a braided USB-C cable for charging and wired connectivity.
The battery on the Vector is fantastic! A single charge will provide up to 180 hours of use, and if you forget to charge, no problem. The Vector is touted as the world's fastest USB-c charging gaming mouse providing an hour's worth of wireless use with a 30-second charge. With the PixArt PAW3335 wireless sensor, you'll get 1ms response time as well as DPI settings up to 16,000. Using OMEN Command Center will allow adjustment to colors, DPI and monitor the charge for the Vector. HP states the Vector will last for 50 million clicks without any issue, and the ergonomic design with rubber textured grip will provide a long life of gaming. The Vector is available today for $99.99(USD)
HP's First Wireless Gaming Keyboard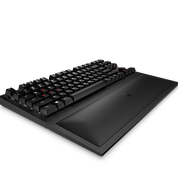 HP is proud to announce its first wireless and compact keyboard, the OMEN Spacer. The Spacer uses the 2.4GHz Warp wireless technology to ensure a consistent and fast connection. The keyboard also boasts Cherry MX Brown switches, a 1ms response time, and 75 hours on a full battery charge. And if you run out of power, the USB-C charging cable can provide 6 hours on a five-minute charge. The Spacer comes with a magnetic detachable palm rest that can be removed easily. OMEN Command Center allows you to customize lighting and design macros for the best gaming experience. You can pre-order the Spacer today for $159.99(USD)
Let's Have a Blast Gaming
HP has a wired headset for those of you that want that hardwired connection. The Blast headset has a 24-bit USB DAC with 53mm built-in drivers for serious audiophiles. In OMEN Command Center, you can make full adjustments with the equalizer and create specific audio settings for games. As with the OMEN Frequency headset, you can use the Blast on PC, PS4, Xbox, and Nintendo Switch. And if you're wondering, the cable length is 47″. Plenty of sizes for you to move around. You can get the Blast today for $79.99(USD)
Oh, One More Thing
Today, you can see all these items streamed at PAX online. But wait, that's not all. From 1 PM – 4 PM PST, you can watch OMEN Underground's Tony Hawk's Pro Skater 1+2 Tournament. If you go to the PAX Arena Twitch channel, you can see skaters battle it out for prizes with hosts Tony Hawk and Atiba Jefferson. Sjokz will be the Caster, and live music will be provided bt Remi Wolf. The Grand Prize for the winner of the tournament will be a signed Tony Hawk board and a full OMEN/Intel setup! For you, the viewer, you'll have a chance to win customer OMEN skate decks, OMEN accessories, and one set of the Wireless OMEN accessories.