Before we talk about Angels of the Zariman, I have to say I have been playing Warframe for quite a long time. Ever since I downloaded it on the original Xbox One in 2016, I unwrapped quite an interesting package. But it wasn't the addicting third-person stealth-action shooter combat or the overwhelming amount of content the game had. It was a shocking and brilliant story it unfolded over multiple questlines and the developers took it to the next level with the cinematic quests.
These quests continued all the way to The New War which was released in December. A final counterpart to the amazing trilogy that consisted of The Second Dream, The War Within, and The Sacrifice. While it did live up to the quality bar set by those quests, it did feel rushed near the end. It felt like something was missing, something that Angels of the Zariman was able to fulfill. Even if I think this content update failed to stand on its own two feet.
The Sad Story of Angels of the Zariman
Angels of the Zariman takes place on the Zariman ten zero. An abandoned ship in the farthest reach of the solar system that holds a lot of significance in Warframe. It is basically the crux of the entire story in this game. Every main cinematic quest has always referenced the Zariman and how it affected everything you experience in Warframe leading up to this content update. However, as important as the Zariman was in the overall story, that is not reflected in the quest.
A few conversations, an introduction to each of the new game modes, and a bland finale were all that awaited me on this homecoming. All of the grandstanding quality I experienced in past area introductions, such as Fortuna, or Deimos was nowhere to be found. Fortuna slowly introduced me to the character of their zone in a harrowing, yet catchy musical number. While Deimos showed me a mafia-like family and introduced a new gameplay system in the Necramechs to create an exciting finale.
Showing up to exterminate random invaders, and taking on a single boss after blatant padding was depressing to me. I became more familiar with what I would replay in this zone. But not the characters you meet inside the Zariman. It was only over time as I kept playing in this new zone that I learned who they were. I was severely let down knowing my intrigue in this area would only be piqued by exploring it.
Chasing Ghosts in the Derelict Horror
Despite the quest in Angels of the Zariman failing to grab my interest, exploring the Zariman was an enchanting experience. Unlike the newest zone additions in Warframe, the Zariman is not an open world like the Plains of Eidolon, Orb Vallis, or Deimos. It instead is a procedurally generated tileset-based system. Where each room is randomly picked and connected to one another. Making each run feel different from the previous.
There are so many different rooms to experience that it took me a few days to find all of them. Most rooms contain secrets too. Such as secret tunnels, and rooms with audio logs. You can also find these things that spawn the ghost of a child to lure you to one of the many secret areas in the Zariman. It is exhilarating to just walk around and gaze upon the decayed interior of this ship. With the decorum being especially haunting.
Human-like figures with their hands reaching out, twisted and filled with a light sticking out of surfaces. The abandoned schoolyards and hallways are covered in plants. The area tells a much darker tale. One that matches the buildup from the many quests in Warframe. I can get lost in wonder just looking around and finding stuff. But when you aren't sight-seeing you'll be in the Chrysallith that houses the characters in the update, that act as vendors.
Serving a Singular Purpose
There are four new characters in Angels of the Zariman. Quinn is the formal and calm man who hands out bounties for reputation and who you speak to when you need to rank up. Cavalero is a gruff foul-mouthed vendor who you can purchase Arcanes and the new Incarnon weapon blueprints from. Yonta is a timid woman who you turn in specific items gathered in Zariman runs to for reputation to rank up or purchase stuff from Cavalero or Hombask. Lastly, Hombask, the blandest of the bunch, sells decorations for the new apartment you obtain with the quest.
While they all have distinct personalities, they only exist to fulfill a role in the gameplay loop. Considering their backstories, this is quite disappointing. I would have loved more personality with these characters. Something to remember them by, and I don't think I will once the game moves on from the Zariman. But before it does, you can at least enjoy fighting Angels and building the Incarnon weapons.
Looking for Angels
It is refreshing to see a new type of enemy join the fray in Warframe, and the Void Angels add an interesting challenge. In each Zariman run, you can find a Void Angel sleeping in one of the big rooms. Awakening it causes you to go through a three-phase fight with unique mechanics that require both gameplay systems. You knock its health down to a specific threshold then jump inside it to take it out within. It can be repetitive when you've fought so many of them. But it is very satisfying to defeat them every time.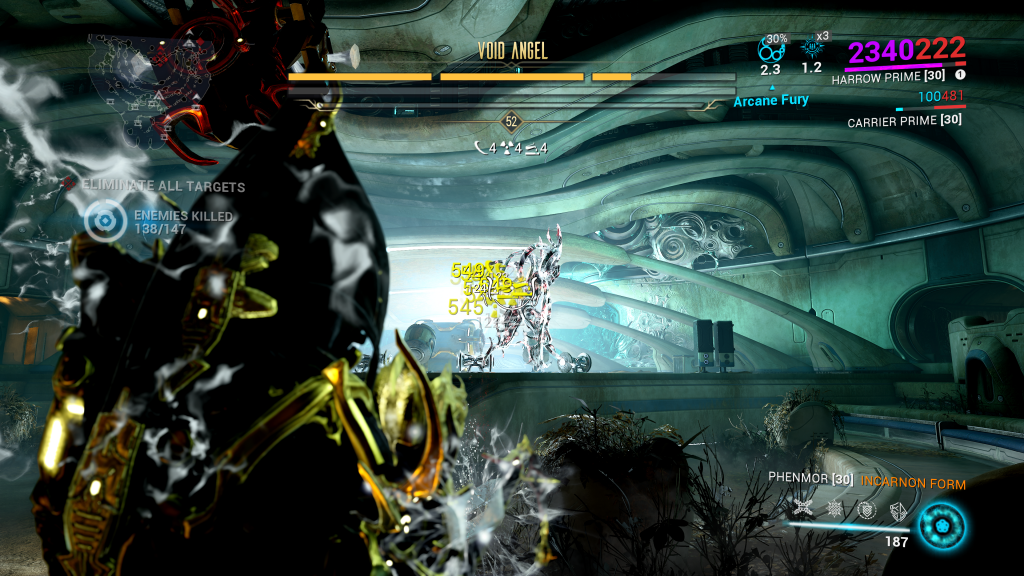 This system also works for some of the new enemies. The three new "Thrax" enemies require similar usage of both gameplay systems. As well as Eximus enemies becoming one of the hardest enemy types in the game. They have an overwhelmingly strong shield and their new attacks can knock you out if you're not careful. The new Corpus and Grineer enemy types can be very annoying to deal with when you have to deal with a crowd.
However, despite the difficulty spikes, these offer a little more danger in the enemy variety. Which is very welcome and enjoyable.
Brand New Weapons to Brave the Zariman
The new Incarnon weapons in Angels of the Zariman are a unique addition to the ever-growing arsenal in Warframe. There is a primary, secondary, and melee weapons to build in this update that all have a unique function. They can transform once you do specific things in combat for them. With the primary and secondary having a similar trigger. Pulling off consistent headshots can turn the primary into a heavy turret-style gun that deals massive damage.
The secondary similarly turns into an automatic rifle that fires area-of-effect bullets. While the melee weapon after getting a high combo-multiplier transforms into a bigger faster weapon. These weapons hit hard with the right build and are perfect for doing bounties in the Zariman for Quinn. But if you visit Cavalero, he will allow you to evolve them even further.
Each weapon has a set of challenges to it. Once you complete them you can unlock specific upgrades unique to those weapons. The primary for instance can have a 50% chance to do twenty times the damage if you aren't getting critical hits with it. So crafting it to not focus on critical hits creates a major boon.
I hope this system gets added to future weapons because it's brilliant and exciting. The challenges might have been tedious, but it was worth it in the end. Since all three new weapons, the pistol primarily helped me against challenging new enemies without having to change how I personally play the game.
Technical Performance and Closing Remarks
I was playing Angels of the Zariman on the Xbox Series X and it was nearly flawless. The game runs in very high resolution and a consistent sixty frames per second. But there is also another consistent bug where entering the elevator after a mission is complete will not allow you to leave. One mission I was in made the host exit the game to allow the rest of us to leave. It basically wasted that player's time which is not good at all.
Overall though, Angels of the Zariman is a great free content update for players looking for more to do in Warframe. But if you were looking for any interesting narrative additions after The New War you won't find them here. Which is a complete waste of something that was so important in the overall narrative itself. The main quest took me about an hour to finish, but countless hours can be spent doing bounties, fighting angels, and grinding out reputation. It is still keeping me busy weeks after finishing the quest itself.
This update is available on all platforms for free. This includes Xbox One, Series X|S, Nintendo Switch, Steam, Epic Games Store, and PlayStation 4 and 5.