In 2009, Gearbox established itself as an industry leader in the looter-shooter subgenre with the release of Borderlands. Each of its sequels (and Pre-Sequels) iterated upon the original concept but did not do much to change the formula. With Tiny Tina's Wonderlands, that has changed.
Drawing inspiration from Borderlands 2 DLC Tiny Tina's Assault on Dragon Keep, Wonderlands takes place in a fantasy setting. This setting change sets the stage for Gearbox to diverge from the Borderlands formula in meaningful ways. While guns, looting, and shooting remain king, these deviations make Wonderlands feel like something more than "Medieval Borderlands." Fortunately, the risk pays off, resulting in a game that feels fresh while still honoring its Borderlands roots.
The Fatemaker
Perhaps the most significant difference between Tiny Tina's Wonderlands and its predecessors is one that Borderlands veterans will notice right away. Rather than beginning with an established character with their own place in the universe, the player builds one from scratch.
Players can choose their Fatemaker's aesthetic, personality and backstory, and most importantly, their starting class. In contrast to previous games, each class has a single skill tree. As a veteran of the franchise this felt limiting during the first several hours of the game. However, once I got the chance to choose a second class, it felt like a world of potential builds opened up.
I am not sure if, mathematically speaking, there are more possible builds here than in a game featuring four characters with three skill trees each. What I do know is that, as I look ahead to a second playthrough, I feel like there are more unique options open. If that was Gearbox's goal, they succeeded in it.
The same does not hold true for the Fatemaker as a character. While the player characters in the Borderlands series have never been the focal point of any game, they all had personality. My Fatemaker (for whom I chose the "Gruff" trait) felt more like a trope, reacting predictably to every twist and turn in Tina's story. Perhaps this was a necessary sacrifice without which Gearbox could not have made a fluid character creator. Still, part of me missed playing as a fleshed-out character like Mordecai, Zero, Athena, or Zane.
All told, I think the creative risk Gearbox took here paid off. It would not surprise me if someone favored the more curated class system and established player characters of previous games in the Borderlands Universe. But, for my part, I think the benefits Wonderlands' character system provides outweigh the drawbacks.
Gameplay
Scale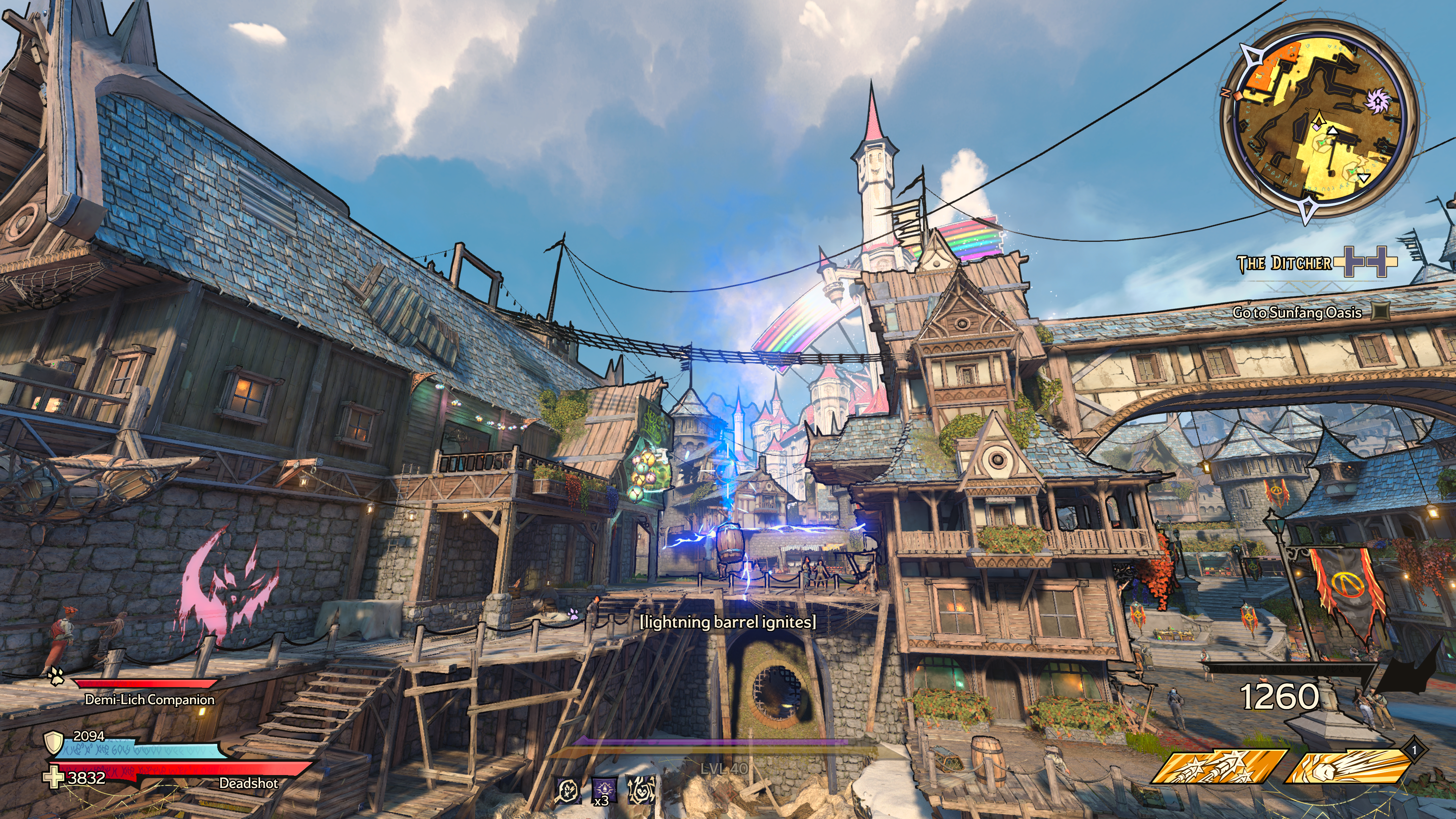 I was pleasantly surprised by how much game there was in Wonderlands. I expected it would take me about 15-20 hours to experience the majority of what Wonderlands had to offer. To my surprise, by the time I rolled credits I had spent over 30 hours shooting and looting the Wonderlands.
Interestingly, no less than half of that time was entirely optional. And it is not just side-quests that players can bypass. There are whole regions within the Wonderlands, in each of which you could easily spend 3-5 hours, that you could fully skip on your way through the main story. Gearbox put some of the game's best content in those regions, which encouraged me to explore every corner of the Overworld. I would highly recommend first-time players do the same.
Story and Side Quests
The main story of Wonderlands is, regrettably, a weak point. Due to the "story-within-a-story" structure and bland antagonist (more on that later), there never manages to be any sense of stakes to the Fatemaker's quest. The narrative provided just enough context to understand why I should move from A to B, but it failed to make me feel invested in much that my character was doing.
Sidequests are similarly straightforward, yet I found them substantially more engaging. Maybe it was because they were shorter, more easily digestible stories or that they were consistently good for a laugh. Whatever the reason, I enjoyed these breaks from the main story more than the main story itself.
The side quests also feature some of my favorite narrative moments in the game. In a quest called Lyre and Brimstone, you insert yourself into a rivalry between two metal bands competing to determine who is the darkest – and most metal – in the Wonderlands. In another entitled Inner Demons, you need to allow a demon to possess you in order to unlock a gate (because: video games). The catch: you are too heroic for the demon to do so. So, you need to go around town doing evil deeds to muddy up your soul enough for possession. These side quests contained some of the most hilarious moments I have experienced in a video game in years.
Characters
Most of the characters in Tiny Tina's Wonderlands are unremarkable and unobtrusive. But there are a few who stand out, for better and for worse.
It would be an injustice if I started in any way other than highlighting Ashly Burch's disarming performance as Tina. I often found myself amazed that a character as quirky and eccentric as Tina could be so sympathetic and believable. In one moment she may be experiencing self-doubt about the quality of her game. In another she may be threatening to literally kill one of her players for correcting her vocabulary. But in every moment she was on screen, Tina was the most affecting character in Wonderlands.
The Fatemaker's party members, Valentine and Frette, also stand out as some of the game's better characters. While they didn't give me the best first impression – Valentine, in particular  – many of the genuine "laugh out loud" moments I had playing Wonderlands came from their commentary on Tina's world.
There were, however, also some characters who did not fit quite as well. Lamentably, the worst offender is the main antagonist: The Dragon Lord. The main issue is not that he is a bad character, but that he is mostly an absent one. Often hours would go by between interacting with him or anybody connected to him. Further, when he does speak to the Fatemaker, everything he has to say falls into one of three categories: 1. "Tina is the worst," 2. "Don't trust her," and 3. "she will betray you like she betrayed me." 
In a series that has brought us villains as compelling as Handsome Jack, having a one-dimensional and absentee antagonist like the Dragon Lord was a letdown.
Combat and the Loot Grind
While it has noteworthy faults in other areas, the gameplay is where Tina Tina's Wonderlands truly shines. Like its predecessors in the Borderlands universe, the game does get off to a bit of a slow start. But once I started pouring some skill points into my Fatemaker and finding higher rarity loot, the gameplay loop got its hooks into me and did not let up until I rolled credits.
Keeping with its tradition, Gearbox provides a seemingly limitless variety of guns in Wonderlands. Yet somehow, just about every weapon feels like it ought to. Common weapons feel largely ineffective, while rare and epic weapons can feel highly impactful if they synergize with your build. 
Then there are legendaries. My heart rate spiked every time I heard that distinctive ching that told me a legendary item had just dropped. 
There are many popular and high-quality loot-based games on the market today, but through Wonderlands Gearbox reminds us that they are the standard-bearers for loot design. Every time I picked up a game-changing legendary item, the feeling of satisfaction was hard to put into words. 
In addition to the guns, Wonderlands supplies the player with a plethora of magical spells. Given that spells replaced grenades in the player's arsenal, I expected they would be mechanically similar. To my surprise, they functioned nothing like grenades did in the Borderlands series. They felt more like lootable action skills than anything else. While the variety of spell effects does not equal that of Wonderlands' many guns, spells were still a welcome addition to the loot grind.
Wonderlands' gameplay does fall short in one area: enemy variety. Excluding bosses, I could probably count on my hands the number of unique enemy types I fought throughout the Wonderlands. This was especially painful throughout the first two hours, during which I was fighting only skeletons and bandits. Worse, the skeletons and bandits felt mechanically indistinguishable from each other.
Of course, more enemy types get introduced in the hours that follow. Yet, in my experience, it was not who I was fighting, but the weapons and spells with which I was fighting them, that kept Wonderlands feeling fresh from start to finish.
Endgame
Once you complete the main story, you can continue to grind for loot through the roguelike mode: the Chaos Chamber. The player runs through randomized encounters in the Chaos Chamber, gradually adding modifiers to increase or decrease the difficulty. In the end, if the player survives, they receive a generous stash of loot. Unfortunately, this was the weakest part of the Wonderlands experience for me. 
The idea is a strong one. However, Gearbox did not sufficiently differentiate the Chaos Chamber from the many randomized dungeons I already experienced in the Overworld. Of course, all roguelikes rely on a measure of repetition, so Tiny Tina's is not unique in that regard. What distinguishes it, to its detriment, is that I had already begun to grow tired of repetitive random encounters by the time I had reached the endgame. As a result, after three runs through the Chaos Chamber, I felt I had experienced most of what the game had to offer me. I imagine Gearbox intended for Wonderlands' endgame to have more staying power than that.
Conclusion
In Tiny Tina's Wonderlands, Gearbox submits a new entry into the looter-shooter subgenre they popularized in 2009 with Borderlands. While it has the same bones as its predecessors, Gearbox took some risks in its shift to a fantasy world. Most of these risks pay off, culminating in a 30-hour experience I anticipate returning to with a new Fatemaker.
Despite a weak story, a bland antagonist, and a repetitive endgame, Wonderlands' stellar gameplay and humorous side-quests make it a worthy addition to the Borderlands Universe.