Here are 11 The Last Oricru tips that will help you get started and survive Wardenia.
The Last Oricru Tips – Lock on to Enemies
Here are the first of many beneficial The Last Oricru tips that you can take away, always lock onto enemies. In fact, make a habit out of it. Oftentimes, I felt that  I would swing and hit the air when I was not locking onto enemies. So, take my word for it and lock on every time you are in a fight.
Red Means Unblockable
If you see an enemy winding up and glowing red, it means that their attack is unblockable. So, be sure to dodge or side-step out of the way.
The Last Oricru Tips – Use the Stealth Indicator to Your Advantage
Stealth is a bit wonky in the game, but the visibility indicator can be a valuable asset. It can help give you brief heads-up if an enemy is hiding around in a corner. So, be sure to be attentive if you see the stealth indicator pop up, and be ready for a fight.
Read Stat Descriptions Carefully
The Last Oricru's UI can be clunky at times, but it provides a plethora of useful information. One of them is how Stats affect your character. So, if you hover the cursor over a Stat, it will explain what the state does. This will be very useful when you want to pursue a specific build or meet requirements for certain gear. For instance, dexterity is a must for smaller and faster weapons like swords. But strength is needed for heavier weapons.
No Shame in Changing Difficulty Settings if Things get too Tough
By default, The Last Oricru is set to Dark Difficulty settings. If you feel that things are too rough and just want to tone it down, then switch to the Story Difficulty option. It still might prove slightly challenging, but perhaps it might help make the journey more enjoyable.
The Last Oricru Tips – Jump Attacks are Great
Similar to Elden Ring, The Last Oricru provides players with the ability to pull off jump attacks. They can be quite powerful and can be done from quite a range. However, as we said in our review, be wary of any input issues when you decided to pull off a follow-up attack.
Avoid Fighting on Stairs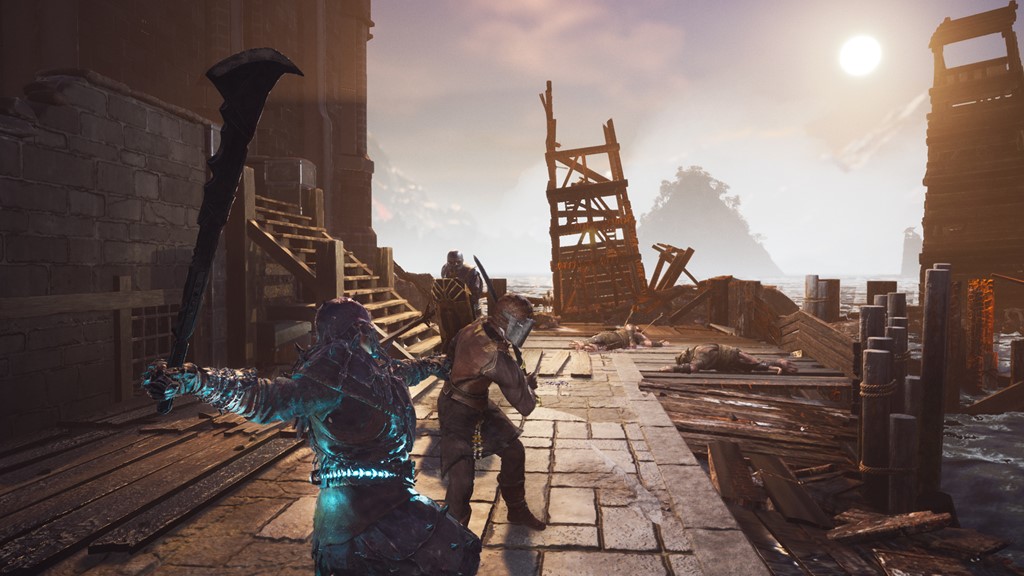 Seriously, just avoid any combat on stairs. More often than not, your attacks won't register. So, it's best just to lure enemies away from stairs.
 Use the Mana Drainer to Regain Mana
Here's another The Last Oricru tip worth noting, the game does not provide mana potions. Instead, players are given a mana drainer and it does exactly what you think it does. The drainer is a dagger that drains mana from enemies. However, it's best to lock onto enemies to drain mana. Otherwise, you can refill mana from terminals.
The Last Oricru Tips – The Grave Puzzle in the Fortress
One of the first zones you'll experience is the Fortress. In the area, you might encounter a coffin puzzle with a bunch of symbols on it. You have to select three symbols in the correct order to solve it. However, in order to solve the puzzle, check out three graves located close to the coffin.
The graves can be found right before the smithy. The three graves are engraved with symbols. They are the same symbols from the coffin puzzle. Also, do keep in mind the candles on top of the graves, they will help determine the order in which to press the three symbols.
Check out the Barter Section from Merchants
One of the best The Last Oricru tips to take away is the barter system from merchants. If you provide a merchant/vendor with the required items, you might score some useful gear or additional health flasks. So be sure to keep track of the required items if you want to complete these tasks.
Be Careful When Selecting Dialogue Choices
The Last Oricru ditches manual saves entirely and utilizes an auto-save feature. As a result, players won't be able to revert back to previous saves. No doubt this creates an immersive experience, but be warned your decisions are final.