BlizzCon is back. This year marks the first in-person BlizzCon since the global pandemic. Additionally, Blizzard now celebrates as they join the Xbox family and showcase their future. Diablo IV developers had exciting things to announce including the next chapter, the Vessel of Hatred expansion. Spoilers for the base campaign are below. 
Beware the Wolf
Read More: Mauga Revealed and the Future of Overwatch 2
Vessel of Hatred picks up where Diablo IV ended. Neyrelle is searching for answers while accompanied by Mephisto who lies inside a Soul Stone. Unfortunately, Mephisto's influence over Neyrelle grows stronger. It is only a matter of time until he escapes once again.
This expansion returns the setting to the jungles of Nahantu. Nahantu was last seen in Diablo II. Additionally, Team Three (dev team for Diablo IV) is bringing a brand new class to the game. This class is unique and has never debuted in the franchise previously. Players excited to return to Sanctuary can get more news about Vessel of Hatred next summer.
Season of Blood Updates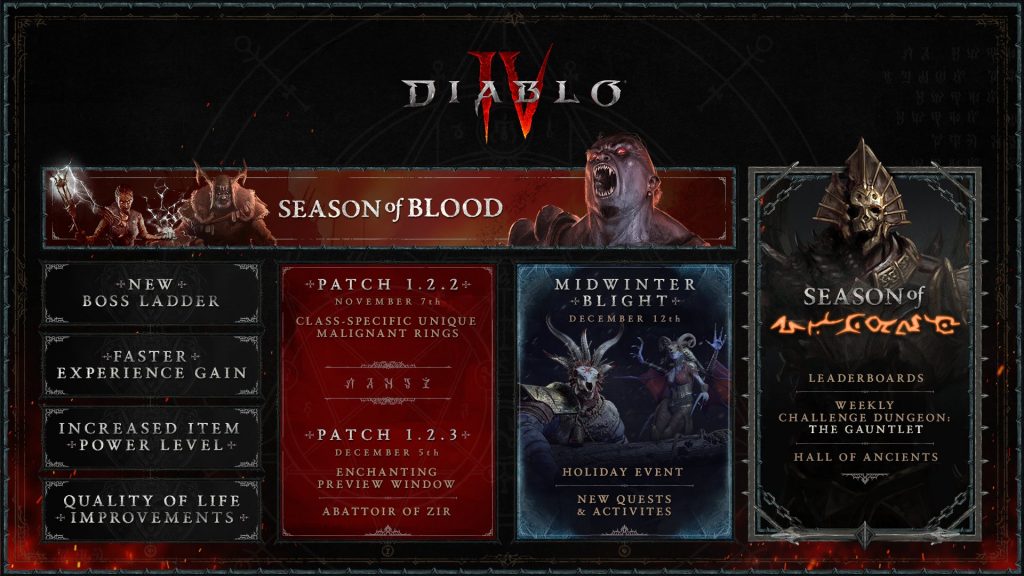 The news does not stop there. Diablo IV's "Season of Blood" established a solid return to engaging content and updates to end game progress. Furthermore, Team Three announced new ways to diversify your play are coming.
Malignant Rings bring back previous seasonal powers that many players enjoyed. There are five rings in total, one for each class, and available in the Seasonal and Eternal realms starting on November 7.
Players looking for a challenge should try the new "Abbatoir of Zir." This is an end-game challenge unlocked after the final chapter of Season of Blood. This trial pushes your skills and builds to the limit. Earning victory nets new rewards for the remainder of the season. This challenge will be available from December 5-January 28.
On the other hand, the "Midwinter Blight" offers a less grueling event to enjoy. This holiday event brings tidings of fear to the citizens of the Fractured Peaks from December 5-December 21. More information to be revealed at a later date.
Lastly, new prestige and infamy accompany the next season. The Gauntlet is a new activity tied to weekly Leaderboards. This Gauntlet tests players' skills inside a non-linear Dungeon.
Diablo IV continues its path toward a successful live-service game. Team Three's versatility in terms of player feedback set the foundation for great seasons like Season of Blood. Furthermore, Vessel of Hatred teases the continuation of a great story born from the base game. What are your thoughts on Diablo IV? Let us know in the comments below.