What do you get when you combine a gigantic, alluring female vampire, a haunted village full of monsters, and a protagonist whose hands are accident-prone? You get Capcom's Resident Evil Village, the eighth mainline entry in the iconic survival horror franchise.
Resident Evil Village Aims High
Players take on the roll once again as Ethan Winters, the protagonist of Resident Evil 7. Ethan is a man with a whole lot of luck and not a lot of common sense. When Ethan's infant daughter is kidnapped, it is up to him to rescue her while trying to survive the monster-infested village where she is held. Along the way, Ethan will uncover the village's morbid secrets and face off against the puppet masters that pull those strings. While a strong narrative has always taken a backseat in Resident Evil games, Village is breaking the mold.
Resident Evil Village is the series' best narrative to date. It slightly nudges you in the story path direction with its intriguing slate of villains embracing their dark cult around the horrifically regal Mother Miranda. These villains, including the iconic Lady Dimistrescu, need Ethan's daughter for some purpose. The reveal, along with how Ethan ties into their plans, is paced well and is nothing short of exciting.
On the other hand, Ethan's dialogue is cringe-worthy at best. The voice actor's line delivery is not the issue, but what Ethan is actually saying in specific moments. For instance, after navigating a dark hallway for close to ten seconds, Ethan utters, "It's dark…" as if he suddenly realized it. These same immersion-breaking moments pepper both cutscenes and gameplay.
However, Village did an incredible job of bringing me into the game's stunning and polished atmosphere not long after. Castle Dimitrescu is one of the best-looking environments I have seen in a video game. Its spine-chilling exterior exudes the haunting Victorian architecture while its interior has a carefully detailed gold and brown baroque style. The masterfully-crafted, dimly lit hallways had me on edge, second-guessing whether I should walk them. And yet, the game does not stop there.
Welcome to the Village
The disgustingly gorgeous village serves as the central location for a hub and spoke world design. Its beaten paths are dirtied with fresh blood. Severed animal heads are decorated on village homes. In the long-abandoned haunted house, the mahogany floors creak with every step I took as I navigated its dark, long halls. These are just some of the multiple areas I encountered that took on their own character that spoke volumes about the villains that inhabited them. Each stood out on their own, making the villains that much more interesting to the adventure. "Dread" was not the only feeling I came across in Village, making it a more varied experience for a Resident Evil game.
Playing Village is like going to a fancy restaurant and just ordering those delectable and tasty appetizers. You get a little bit of everything and you are not only satisfied, but full. Rather than being defined as one kind of horror, Resident Evil Village has something for every horror fan to get excited about. From lycans to vampires, and yes, even zombies, Ethan will face off against a range of enemies and bosses in the 8 – 12 hour experience.
With a large map to explore and accelerated combat, Village is vigorously adding to the building blocks of Resident Evil 7. If RE7 is to Resident Evil 1, then Village is to RE4, without a doubt. The gameplay hook of curiosity then satisfying discovery is shown in spades. Despite the unnerving environments, I was always curious to find the next door to unlock or treasure to find. Weapons can now be upgraded with the earned in-game currency, all thanks to the mysterious and charismatic Duke, the game's shopkeeper.
REplayability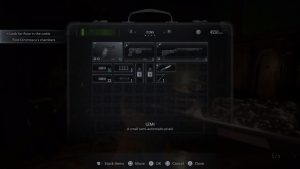 Even after completing the main campaign, Village still has a lot to offer. Resident Evil revels in replayability and this entry is no different. With the core of the game being so fun, Village was my first attempt in doing the infamous knife-only and speed run playthroughs. Never in my wildest gamer dreams would I have anticipated doing either. I absolutely despise the thought of knife-only runs or speed runs. But with Village, I was unnaturally eager to do them and found success in my determination. And the craziest part? I had fun.
The game rewards each of these different ways to play. The final credits roll reveal a bonus shop. This shop gave me access to unlock concept art, weapons, infinite ammo and more. With new weapons and harder difficulties to tackle, I keep finding a reason to jump back into Village, making its price of entry more than worth it.
After refining your gunplay, you can take your earned skills into the returning Mercenaries Mode. A staple in the series, Mercenaries is a timed game mode in which players can pick up abilities while killing monsters that add to the timer. The more enemies you kill in each stage and the more time left on the clock adds to your overall score. Netting a high score can unlock more stages and even weapons to use in the main campaign. Stages do progressively get more challenging, leaving a lot of room for mastering enemy placements and the gameplay.
Resident Evil Village is the Full Package
I'll admit, the game's first hour or so was slow to start. It had me questioning whether the entire game would have this "on-rails" feeling similar to a haunted trail at your local theme park. More specifically, it was like walking into a narrow lit hallway with all of the doors closed; ominous, but underwhelming.
But the more I progressed in the game, the more open it became in its fun factor and intrigue. In that same lit hallway with the doors closed, all of a sudden, the lights went out. Then, doors start to creak open. Then, a slow, trembling growl could be heard behind and in front of me. And when I finally reached the end of that hallway, I was greeted by the bombastic, action-packed Resident Evil shenanigans I love. Resident Evil Village is a lot more than it appears to be, and I thoroughly had fun watching it all unfold.
A Game of the Year Contender
Resident Evil Village sticks to the series roots and hooks while providing a refined and fun spin to survival horror. It is also an incredibly polished title, visually and gameplay-wise. With that said, I advise turning off camera acceleration and adjusting camera speed to get a more smoother experience. I do wish Capcom would let us adjust the FOV as well for little more spatial awareness.
The game's initial hours took a bit to get settled in. It also did not make me substantially like Ethan any more than I did in RE7. However, my complaints do not outweigh the full, unforgettable experience Village gave me. I am more excited than I have ever been for the story direction. Where characters are left off and how that will carry over into a not yet announced Resident Evil 9 has me invested. Resident Evil Village is sitting pretty as one of the best games in the series and of 2021. It is absolutely a different experience than the intimacy of RE7. But it is all for the better since that DNA is not lost, but added to.