Guilty Gear Strive continues to sweep the fighting game community. Since its launch in June, the game has surpassed five hundred thousand units sold worldwide. This marks a huge accomplishment for the franchise. However, the momentum does not stop there. Arc System Works (Developers for Guilty Gear Strive) has revealed the first new fighter joining the cast, Goldlewis Dickinson.
Area Fifty-One
Read More: Doki Doki Literature Club Plus! Review
Goldlewis Dickinson arrives as the first DLC character in the roadmap. In the story, Goldlewis serves as the Secretary of Defense for the United States of America. He and Giovanna show themselves to be among the top fighters within White House personnel. Additionally, Goldlewis is nicknamed, "the Secretary of Absolute Defense," for also being an active-duty military officer.
The trailer begins with Goldlewis utilizing his massive coffin (adorned with Area 51 paraphernalia). These attacks seem slow but damaging if they connect with the opponent. Consequently, Goldlewis Dickinson is listed as a "power" character with average ease of use on the game's website. However, once he opens his coffin, the true mix-up of attacks begins. A similar combination of Zat0's use of Eddie and Faust's assortment of tricks, Goldlewis is aided by an alien and other cryptids inside the coffin. His assortment of cryptids grants him flexible avenues to dominate the neutral space. Goldlewis was mostly a supporting character within Guilty Gear Strive's story. Finally, players will get a chance to see him in action.
Release and Roadmap
Arc System Works also included another look at the roadmap for additional content coming to Guilty Gear Strive. The next DLC character reveal will come in August. Ishiwatari Daisuke (General Director of Guilty Gear Strive) has stated the second DLC character will be a returning fighter from the franchise. However, along with Goldlewis, a new stage will not arrive until the first character reveal in 2022. On the other hand, Arc System Works will give new life to the game's story as well next year.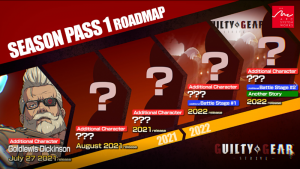 Owners of the season pass can begin utilizing Goldlewis Dickinson on July 27th. He will be available to everyone else later in the week on July 30th. The first season pass will include five characters in total at a discount rate versus if one would purchase the characters separately. Are you excited about Goldlewis? Who do you expect to join the roster next? Let us know in the comments down below!