Today is Haloween by far one of the spookiest times of the year aside from a shopping mall on Christmas Eve. In celebration of Haloween, and the shock and horror associated with the season. A collection of our staff has written about some of their favorite horror games that they have played over the years. From retro classics, to modern masterpieces you should find a variety of titles to dip your foot into this Haloween.
Alien Isolation
Mahmood Ghaffar – Assisstant Editor In Chief 
For me, I'll always pick Alien Isolation as my favorite game to play during Halloween. First off, it's an intricate game of hide and seek that is punishing if you're not careful. Moving between lockers and hiding under desks to avoid the Xenomorph is a heart-racing experience. Even when you save your progress, it takes a couple of seconds to complete and you're still vulnerable to being attacked. And let's not get into the creepy retro-future androids. When a friend of mine came by to my place and saw me play the game, I could tell that the game left him uneasy, which speaks volumes of the terror that you'll encounter during a play-through. Alien Isolation is a game that I had no expectations of, but once I played it I was hooked and it stuck with me fondly after all these years. Do yourself a favor and give it a shot.
Resident Evil
Raphael Oppenheimer – Staff Writer
As a young pre-teen, one of the games that first chilled me to the bone was Resident Evil. From jump scares, zombies, monsters, limited save opportunities, restricted mobility, small inventory, and high-pressure puzzles that needed to be solved within a time limit or you would die, the game was the first to inspire nightmares. However, looking at the game today, with the fortune of hindsight, some of the original Resident Evil's more camp elements jump out to a mature gamer and dampen the horror vibe.
This is where the GameCube remake hits all the proper notes. The tension from limited saves is carried forward from the original, along with limited inventory space. Most of the more camp moments were removed, adding to the sense of trepidation. The visuals are updated enough to drench the Spencer mansion in a malaise of foreboding, and the first time a zombie I had killed rose up off the floor as a Crimson Head, the blood drained from my face. The GameCube remake is the definitive edition of Resident Evil, and it is my favorite horror game.
Dead By Daylight
Mike – Staff Writer 
I tend to stay away from the horror genre in general. However, one game encompasses all the most prominent names in horror pop culture in its extensive and ever-expanding character selection. I am talking, of course, about Dead By Daylight. The premise is a classic slasher movie trope, a group of unsuspecting individuals who find themselves as targets to the killer that, no matter what, appears to be capable of more than what is humanly possible. The same can be said for this game, and just like in the movies, you find yourself on the edge of your seat throughout.
The cooperative gameplay is among the best I have experienced. Dead by Daylight finds a way to keep you engaged. The gameplay alone keeps you coming back and leaving with new experiences. On paper, you would imagine this game would get old fast and the replayability through the lack of variety in modes. Thank to the unique gameplay it makes every game feel unique. That keeps the game fresh every time you decide to jump in. If you think Dead By Daylight Is not for you, just as I did, there is a genuine possibility you will be pleasantly surprised.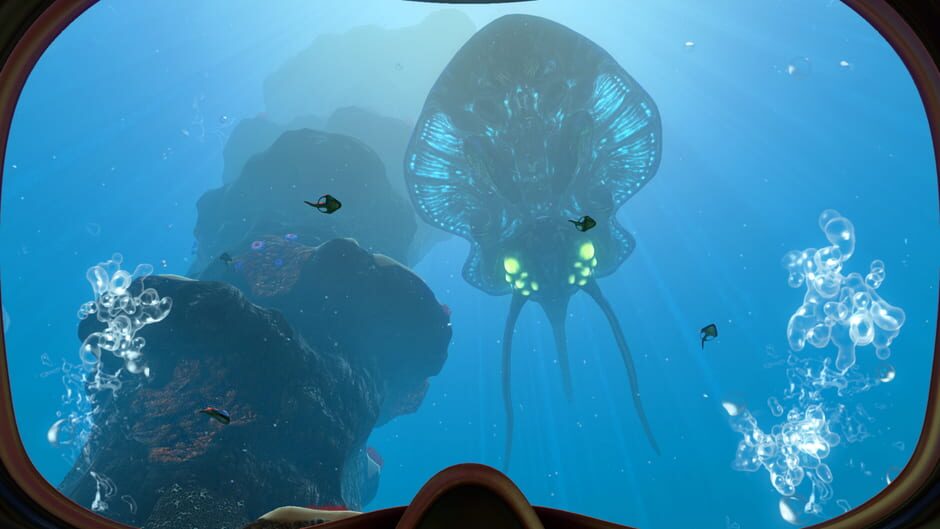 Subnautica
Joesph Repko – Staff Writer
Although not directly labeled as "horror", Subnautica still leaves me terrified to play it. Both of the games, with their overbearing settings, haunt my nightmares. The wriggling of a reaper leviathan in the barely lit deep of the ocean. The groans, snaps, and roars in every direction with minimal light and far distances to travel away from safety. Playing them will always spike my anxiety, and if that isn't horror I don't know what is.
P.T.
Joshua Reding – Editor In Chief 
I do not like horror games. I do not like being scared or the feeling of dread about what is coming around the next corner. I don't get the rush out of that experience that so many other people do. I don't watch horror movies or go to haunted houses or play horror video games. However, several years back a horror game, well, demo really, debuted on the PlayStation store that caught my attention and became an experience I would return to time after time. That experience was P.T. P.T. stood for Playable Teaser and was ostensibly a preview of a Hideo Kojima-Guillermo del Toro collaboration on a Silent Hill game. While that game never materialized, what did was a single hallway.
P.T. is a single L-shaped hallway in a house with a door on either end. You walked down the hallway and opened the door on the other end and it reset you back to the door you started at. Each time you restarted the loop things would change. Sometimes in very subtle ways, other times in not so subtle ways. The tension arose not knowing why things would change. I never knew what the triggers were to start events or finish them. P.T. was a game I shared with anyone willing to sit and watch and it became a communal experience that could last thirty seconds or an hour depending on the tolerance of each person watching. It sadly no longer is playable, but it will live on in my memories forever.
What are some of your favorite horror games? Let us know in the comments and don't forget to check back for the latest gaming news and information.