Rockstar Games utilizes the Rockstar Advanced Game Engine (RAGE) for every new Rockstar game title. In 2013, Rockstar released the latest instalment of the Grand Theft Auto franchise that was highly successful in the sale units and monthly players due to its online component. Last year, Rockstar's parent and publisher company Take-Two Interactive reported in their financials press report Grand Theft Auto V has now sold over 115 million units worldwide. We will take a deeper dive of Rockstar's current biggest hit Red Dead Redemption 2 that hit shelves in late 2018 with the technical details of the game.
Rockstar unveiled a wild-west prequel of the first Red Dead Redemption game in late 2016. Two years later, Red Dead Redemption 2 was released on Xbox One & PlayStation 4 systems in late 2018 and a year later on PC and Google Stadia. After a very intense two-year-long wait, the RAGE game engine introduces lots of new technical features and rendering improvements. Rockstar Games clearly has put lots of effort and time to simulate the world of the wild-west with the best possible technical visuals to date. It's a huge technical leap over any other RAGE game title that has ever released.
Pushing The Boundaries of The World of America's Wildwest
The huge open-world map expands into multiple regions such as Lemoyne, Heartlands, New Austin and much more. It's a huge world to explore whether on horseback or playing the game main campaign. Rockstar's strong attention to detail yet again blows my mind. At times random events may occur while roaming across the game map to ensure the feel of the wild-west world is alive. Many random events may include such as a stranger bitten by a rattlesnake in a forest and asks for immediate assistance from Arthur. It makes me appreciate the attention of small little details within the world.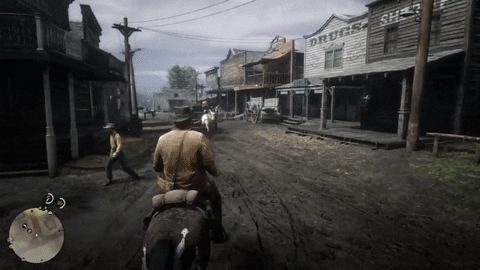 Furthermore, the NPC system received a major upgrade than ever before. They have enabled players to interact with absolutely any NPC that you will encounter. Rockstar went for a similar dialogue system such as games like The Witcher 3 features so the game will give a list of options on the screen of what actions you like to take when interacting with an NPC character by using the R2 or LB button. There are various options such as greeting, antagonise, or if you wish to call out the NPC to rob their current possessions. It was reported the game features over 100 voice lines per an NPC within the game world.
Also, the animal AI system has received a massive overhaul and it was said to feature over 200 animal species within the game according to an interview with Phil Hooker from Rockstar. On another note, Phil Hooker mentioned the AI and animations were completely reworked.
Red Dead Redemption 2 offers a whopping 60-hour long game story including the game side quests. The game world changes over time while the player progresses the game story. These include small towns, cities, forests, and many other places. It's fascinating to see the amount of attention to detail of the game world. Similarly, NPC's will remember certain story events when the player visits a specific town or place. This also includes in an event of a player causing major vandalism or disruption.
Red Dead Redemption 2 also now features per-object motion blur. Which in other words applies motion blur to models that are moving in the 3D environment. For example, the following effect is used on a wagon wheel, and so on. It gives it a bit of realism effect but it's a nice a little touch. Moreover, Rockstar introduced the first-person mode that also made an appearance in Grand Theft Auto V that allows players to get a closer up to objects and such. The first-person mode works incredibly well during horseback, shootouts and such. It's also worth to note the game animations look incredible – especially during gun shootouts and riding a horse.
Weather & Cloud Rendering
In the past RAGE engine game titles have showcased mind-blowing weather effects in titles such as Grand Theft Auto IV,Max Payne 3and Grand Theft Auto V. Rockstar have yet again outdone themselves with the completely overhauled weather system in Red Dead Redemption 2 with an addition of advanced volumetric cloud rendering. Moreover, it is worth to note the game supports ray-marching that essentially interacts with the light on the objects. In other words, the game will determine how it affects the light while the clouds are moving from above the sky. For instance, if the weather is set to heavy rain the clouds will be dark. It's harder for the light to pass through the game world so would that create a light scattering effect.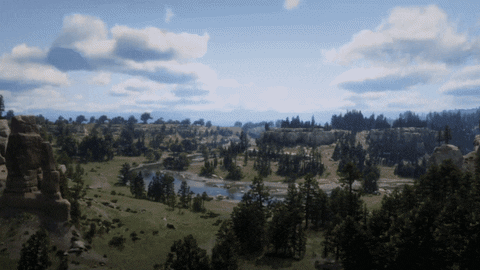 The two-hour game introduction of the campaign prologue takes place at a mountain during an occurring snowstorm is ongoing. In the first few missions, the player will soon discover the snow physics will capture deep snow prints from a far distance. In addition, depending on the heavy volume of the snow it will cover the main protagonist clothing. Similarly, it's a huge improvement over Grand Theft Auto V's snow effects from the famous North Yankton prologue. Not only but also, the online component of the game world was covered in snow during the holiday of 2019. It's an excellent approach to further improvements to the snow effects in Red Dead Redemption 2.
Rockstar has built a very great volumetric fog system across the board. The effect reacts very well during the night and early hours of the morning due to the new volumetric lighting system in place as well. In places such as Saint Denis while the effect is used during the late hours looks totally insane.
Enhanced Console Versions
The introduction of the Xbox One X and PlayStation 4 Pro in 2017 and late 2016. It allowed more system resources to become available to Rockstar. That can enable the game to operate in higher resolution with other higher graphical tweaks. EuroGamer, writer John Linneman found the results that Red Dead Redemption 2 plays best on Xbox One X due to Microsoft offering more compute power than PlayStation 4 Pro's hardware. John believes the Xbox One X version operates the game in native 4K resolution. However, the PlayStation 4 Pro is not offering native resolution but rather an implementation of checkerboard rendering but the game runs smoothly as it should in most gameplay scenes.
However, Rockstar's implantation of the HDR mode was slightly disappointing upon the launch of the game. Many of players reported the HDR mode enabled caused the game colours to look washed out. But in May 2019 an update was released on all platforms to address most of the HDR issues and most players are reporting the game looks better than ever before with HDR enabled.
What could Rockstar improve for next-generation versions
The Game Awards in late 2019 revealed Microsoft's Xbox Series X will be capable of playing every Xbox One title available. Similarly, Sony's upcoming PlayStation 5 console will be capable of playing every PlayStation 4 titles too. Both consoles are shipping between November to December, but what could kind of support could Rockstar do? Many fans are speculating if Rockstar will decide to make a new port of the game.
For the first time ever, Rockstar is highly likely capable of operating the game in 60FPS. This is due to the next-generation improved hardware such as an improved CPU and super-fast SSD's. It is also worth to note, the game loading times will likely become reduced by a major percentage. Likewise in early 2019, Sony showcased Sony's PlayStation exclusive game title Spider-Man. It was operating on a PlayStation 5 and PS4 Pro systems to showcase the game loading times. The results of the loading time result are mind-blowing.
---
Do you think Red Dead Redemption 2 is a great technical showcase? Let us know below!
Game Title: Red Dead Redemption 2 (2018)
---
Be sure to check out the Iron Lords podcasts!