With the 2021 release of Mortal Kombat's new live-action movie, it is interesting to look back on the projects of yesteryear. Whether it be movies, a TV show, and even an online series. Mortal Kombat has taken a few swings at the live-action adaption, for better or for worse. Between cast upheavals, budgeting issues, and shaky story direction, the road has been bumpy. The art of adaption is a science and Mortal Kombat has quite the record to look at.
Mortal Kombat (1995) and Mortal Kombat: Annihilation
The first of Mortal Kombat's live-action adaptions started rather strong. The first Mortal Kombat film, released in 1995 and directed by Paul W.S. Anderson, was a wonderful mix of the Kung-Fu film genre with distinct 90's camp. The movie is popular with fans and has cultivated a fanbase all of its own.
So much so, that Shang Tsung's infamous "Your soul is mine!" appears in Mortal Kombat 11. The movie covers the events of the first game and offers fans a familiar story. It also does a good job of mixing the fighting elements of the game with narrative context. The first film takes small story beats uses them to flesh out 101 minutes of runtime.
Unfortunately, the ball dropped when it came to the second film. Released two years after the first film in 1997, Annihilation took the baton and dropped it. Starting with the casting. Besides Robin Shou as Liu Kang and Talisa Soto as Princess Kitana, all other characters were recast. Not to mention that Paul W.S. Anderson did not return to direct. That is not to say that production could not recover from such changes but unfortunately it did not.
There is a notable change in dynamic and tone between the two films. The change in directing and in casting led to alienating the fanbase. Not to mention some choices were seen as bizarre. Jade being portrayed by Siberian supermodel and actress, Irina Panteava which was a stark difference to the dark skin woman fans, are used to seeing Jade as. After Annihilation's poor reception, plans for a third film were stuck in development hell for nearly two decades.
Mortal Kombat: Konquest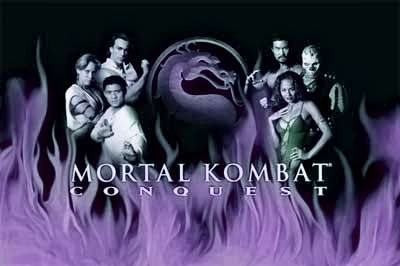 Airing for one season between 1998 and 1999, Mortal Kombat: Konquest was a martial arts program that was set prior to the first game in the series.
The show follows Kung Lao on his journey to protect Earth along with Siro, a former bodyguard, and Taja, a former thief. They set out to protect Earth from outside forces, notably Outworld, and prepare for the upcoming Mortal Kombat tournament. The show features well-known characters like Shao Khan, Raiden, and Shang Tsung while introducing fans to new characters such as the aforementioned Taja and Siro.
The show aired on TNT following WCW Monday Night Nitro, the wrestling programmed owned by Ted Turner. This left Konquest in a lucrative time slot and even led to some of WCW's wrestlers making guest appearances on the show, such as Adam Bomb and Meng.
Yes, we now see these guest spots as footnotes in the lists of interesting wrestling and MK trivia, but at the time this was big. What is sad is that Konquest's cancellation was not due to a lack of viewers. According to show developer, Joshua Wexler, the show's great ratings led to higher budget costs and the creators did not have the financial backing to continue. This meant leaving the cliffhanger ending of season one goes unresolved to this day.
Mortal Kombat: Legacy
Mortal Kombat: Legacy is a web series on Machinima's YouTube channel, starting in 2011. The series is an anthology with each episode covering a particular character's journey.
The premise for the series originated with director Kevin Tancharoen's short film titled Mortal Kombat: Rebirth, which portrayed the background of the first game's story. What is amazing is that Kevin was seeking a green light to proceed with production on a reimagined Mortal Kombat film when he sent his concept to Warner Bros.
The first season serves as a prequel to the series, covering the background of various characters in its anthology format. This allowed individualized time to flesh out backstories and the second season devoted to the tournament itself. Tancharoen and Machinima were able to get some amazing onscreen talent to portray the characters. From Michael Jai White (Black Dynamite) to Harry Shum Jr. (Shadow Hunters) and Kirby Morrow (Death Note).
After two successful and well-received seasons, the show practically vanished. Tancharoen departed the show in 2013 after disagreements about the reboot film he was aiming to work on with Warner Bros. However, in 2014 he spoke with Nerd Reactor and said that he would still be working on a season three as director. Even though rumblings of a season three have circulated the project seems to be in limbo.
Live-action adaptions really are a science. And though Mortal Kombat does well with both the games and comics, other ventures outside of that have left lasting impressions on fans for better and worse. As more people see 2021's Mortal Kombat film, time will tell if it ends up surpassing previous adaptations in fan perception.