Vampires have a mixed history when it comes to video games. More often than not, they are difficult creatures to adapt to an interactive medium. Especially if you want to add an immersive simulation layer to it. Enter Redfall, the latest entry from acclaimed studio Arkane Austin. The studio is well known for its immersive sim titles such as Prey and the Dishonored series. Their latest game represents a new direction for Arkane Austin. Redfall represents uncharted waters, and it shows from almost every single facet.
Developer & Publisher // Arkane Austin, Bethesda Softworks
Platforms //  PC, Xbox One, Xbox Series X|S
MSRP & Release Date //$69.99, May 1, 2023
Reviewed On // PC
An Interesting, Yet Underdelivered Narrative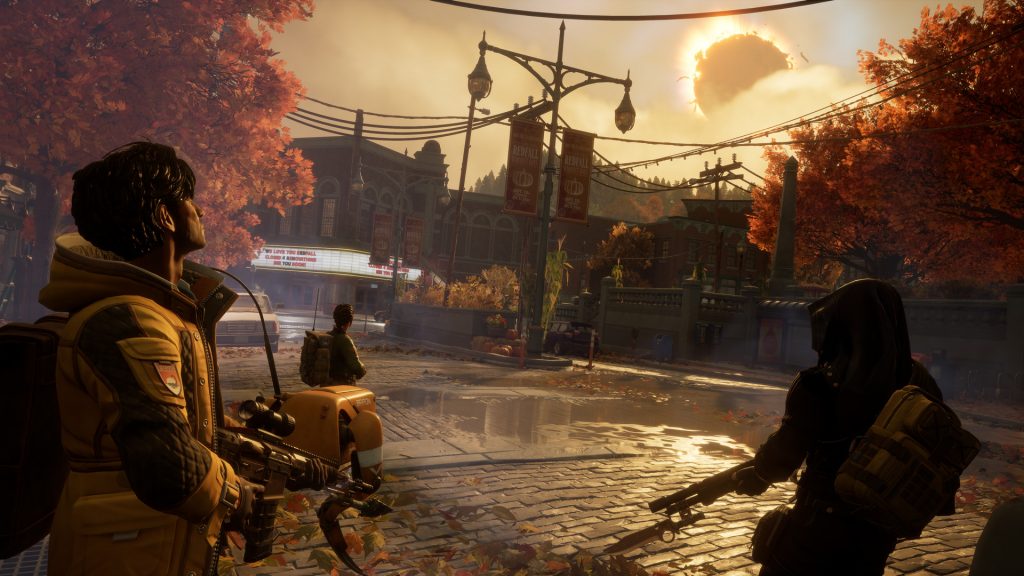 At its narrative core, Redfall is about humanity's pursuit of everlasting life. A young girl volunteers her unique blood in an attempt to develop serums with healing properties. Taken to the New England tourist town of Redfall, Aevum Laboratories begins experimenting on her. However, in predictable fashion, things go completely sideways resulting in vampires who subsequently take over the town.
On the surface, Redfall has a lot of interesting narrative beats. Some of the locals take a liking to the town's Nosferatu masters and cults sprout up in worship of their undead overlords.  Meanwhile, an eclipse manages to block out the sun entirely and the sea surrounding the town raises up to create a blockade around Redfall. However, both the vampires and the cult also have to deal with the insidious private military company (PMC), Bellwether, who's trying to erase all the events that took place in the town.
Even with all of these factions in play and a story of almost Biblical proportions, the way the story unfolds felt undercooked. The narrative is done a major disservice in its presentation. The cutscenes, if you can call them that, are presented as still images like a comic book.
Of course, like other Arkane Austin titles, there's a lot of environmental storytelling. Usually that comes in the form of messages that players can discover around the town. They record the impending doom that befell the tourist town and often depict grizzly scenarios. For instance, one series of notes found at a local residence recounted their suffering a couple of days after the vampire outbreak. It was chilling to read how desperate some of these inhabitants became from the threat the vampires and their cult followers posed.
Main Storyline vs. Side Quests
The side quest designs from characters at the fire station stood/maritime center stood out more than the main quests. For example, helping Joe Creelman find his abducted brother was memorable because it ended up being an unexpected trap and ambush. Another side quest that tasked you with placing heirlooms in one of the side character's mother's grave humanized what should have been an afterthought of an NPC.
The side activities focus on the survivors and fleshed out those characters more than I anticipated. There are themes of grief, hope, and a call to help your fellow man found within these side activities that felt personalized. While the main storyline focuses on the vampire gods that took over the town. You'll uncover how they turned into vampires, usually through echo memories replaying key scenes prior to their turning. In the end, you'll face down said vampire god, and once again, the main storyline cycle repeats.
Welcome to the Open World of Redfall
If you take one part Borderlands, and another part Far Cry, you get Redfall. Now, at its core, it is an open-world game with lots of different quests, side activities, collectibles, safe houses, and a host of other activities to complete. Main quests felt unique for the most part and will take you across the different landmarks in Redfall. You'll head to the hospital, lighthouse, the local maritime center, and other sites the town has to offer. Side activities will reward you with both XP and cosmetics for your character and weapons, further incentivizing you to take them on.
Part of the game's main gameplay loop tasks you with securing different neighborhoods in a Far Cry style and you'll do so by completing activities. Once you complete all of a neighborhood activities this will prompt an underboss, a powerful local vampire that is wreaking havoc in said neighborhood, to appear. Upon killing them you will receive their skull, which you will need to collect in order to progress the main storyline. While vampire nests will pop up and destroying them will reduce vampire influence in the neighborhood and make it safer to venture into the streets. Once a neighborhood is safe its aesthetics remain the same just without vampires and cultists hanging around. Then it's rinse and repeat.
Exploring, Emptiness, and Fatigue
Redfall is a map game through and through. The lack of a ping system means that exploration felt meaningful and natural as you have to travel around to find points of interest. This keeps the map from being bombarded with icons. Best of all, Redfall has an initial small map, which was done so by design since you will be traveling on foot through the entirety of the game. In contrast, the second zone is noticeably bigger (perhaps 2 times bigger) and has a rural/rustic aesthetic to it.
The towns feel empty. However, I would argue that is completely justified given the game's narrative of vampires taking over. You wouldn't expect people to go about their day when vampires and cultists are running amok in the streets. Though the occasional clash does occur between vampires and Bellwether mercs, which ironically brings the town to life. But for the most part, the game world felt hollow and lifeless.
However, once the second and bigger zone opened up, fatigue started to creep in. By this stage, it was more of the same just on a larger and also empty scale. Safe to say, if you are not a fan of "map games" then Redfall might not speak to you. Especially since it took me over 16 hours to complete. But at the same time, the world felt crafted as an immersive sim playground.
Immersive Sim Aspects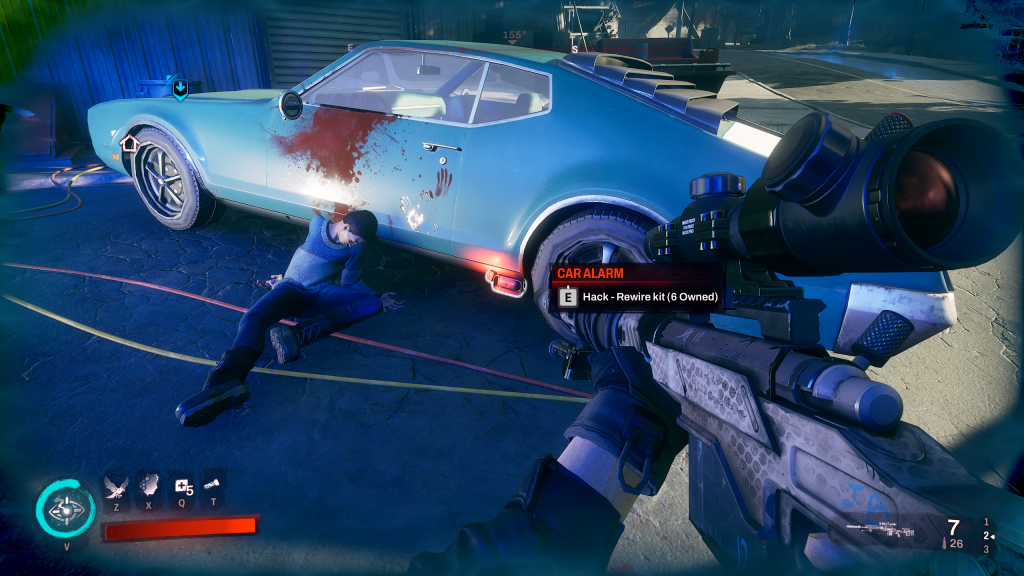 Immersive sims are Arkane Austin's bread and butter. It is what built the pedigree of the studio. In Redfall, that same DNA is still present. Players can collect food and drinks to replenish their health, items that net you currency, and documents to fill you in the lore. There are trip wires and alarms that can be bypassed with rewiring tools and locks can be picked. Spilled gasoline, barrels, and circuit breakers can make a difference when engaging in combat. The game provides you the options you expect and nothing really more. The feeling of intuitive exploration and delightful surprise that characterized Arkane's earlier titles is only there at a superficial level.
You can find different entry points and routes when you're in a building or out and about in town. So, looking around for that smart opening, or lock picking your way into the designated area provides a different satisfaction that will require more effort than just killing everything in sight.
If you do cause enough of a ruckus, the vampire gods will take notice. Eventually, they will send in their beefy Rook to take you out. Actions such as completing side activities and killing a lot of vampires fill up the Rook storm meter. But once he's sent (whether he kills you or not), the meter empties and the entire ordeal doesn't incite the expected anxiety or trepidation that it clearly aims to do. It is an interesting take on the classic GTA wanted meter that never quite works.
Redfall Artstyle and Graphics
The art style of Redfall continues the signature Arkane character design we all know from their previous titles. They fit the bill in terms of cartoony expressionism while remaining somewhat grounded.
Graphically, the game is a tale of two cities. At times, the town of Redfall can look enigmatic, especially in the more supernatural environments, other times it just looks bland and uneventful. It is by far the least memorable and least characterized environment Arkane has ever produced.
The weapon design in Redfall is on point for the most part. High-end weapons have the look and feel to match their status. There's a variety of different and unique weapons like stake guns and UV beam guns that are effective against vampires.
The visual effects also produced mixed results. Staking vampires was not only satisfying to pull off but also to see as cinders and other particle effects would be set off and conclude with a pile of ash. While vampires that buffed their human cannon fodder with blue auras looked lame and uninspiring. While at times, shadows and lights would flicker to no end. Inconsistency permeates every aspect of the visuals.
Gunplay and Combat
Redfall features tiered and leveled weapons that follow traditional loot rarity levels. It helps add to the power fantasy that many looter shooters go for. Weapons also have status effects that can add that extra oomph that you might be looking for. You can also add stakes to certain weapons. It was always exciting finding a high-tiered weapon and that remained so throughout my play
For the most part, Redfall has competent gunplay mechanics. Although Arkane Austin isn't renowned for gunplay, its latest offering shows that the studio is expanding its repertoire. The guns feel distinct and provide some satisfaction when shots or stakes connect.
Snipers felt as they should and shotguns felt powerful up close as intended. Though surprisingly, shotguns had a decent range and could be used from farther than expected. Guns felt like they had a weight to them when using a keyboard and mouse. Though it seemed that there were no aiming penalties when shooting from the hip or if you aimed down the sight. Hit registration was also an inconsistent affair. Especially if you like to use the sniper rifle like me which displayed consistent repeated errors in where the sites said I was aiming for versus where the bullet hit.
Stake Your Prey and Forget Stealth
The lack of a stealth kill/knockout was a massive missed opportunity in Redfall. Especially since the game provides ample stealth routes to interact with the game world. Players either tried to sneak past enemies entirely or engage them, where the former was more trouble than it was worth. There was no middle ground. The lack of stealth in the immersive sim side made the game feel half-baked and this game clearly needed more time in the oven.
One thing that Redfall did nail is the staking vampire mechanic (pun intended). It remained satisfying and the visual effects during these moments complemented that good feeling. Though sometimes, when I initiated the staking animation, my character would hilariously stake the air.
Deflated Difficulty
Despite being challenging in the beginning, Redfall's difficulty immensely decreases once you get outfitted with high-end weapons. Even the intimidating Rooks that are sent out to you when your menace level runs too high can be pushovers with a few shots from a stake gun. This is a consequence of the tiered weapons system that ties damage output with stats and a number above the heads of your enemies.
The human AI can be laughably bland. They will often get stuck behind objects where you can pick them off like ducks at a carnival. What's even more baffling is you can take out an enemy with a silenced sniper rifle next to his companion and they wouldn't even flinch. It is these kinds of moments that detract from the immersion factor of Redfall. In one instance, I saw a human enemy float around in a neutral pose ala Cyberpunk 2077. But that was one single incident throughout my entire playthrough. However, I cannot say the same against vampire enemies.
They are fast, agile, and will put you to work. Best of all there are different vampire types that will more likely test you than not. They are the showcase of how unpredictable an AI can be in the game, Unfortunately, it seems most of the effort was placed with vampires, and human enemies were relegated to mere cannon fodder.
Useful and Distinctive Abilities
Arkane Austin did a good job making abilities feel useful without feeling overpowered which would usually break the game's system. I played as Jacob Boyer and his recon and stealth approach abilities suited my gameplay style well. His ultimate spawns an invisible and powerful sniper rifle that can snap onto enemy targets.
The ultimate ability was immense and could turn the tide during an intense firefight. Luckily its cooldown was appropriately timed so it never felt readily available nor did it feel it took an eon for it to be available (looking at you Destiny 2). It shows that Arkane Austin thought hard about how to incorporate different play styles through Redfall's characters. This helps create synergies when playing with other players.
Sound Design
Overall the audio department is a mixed bag. The voice acting, while competently acted, doesn't do much to stand out. Instead, opts for a safe, well-versed, execution. There are no standouts, nothing that sticks when it comes to the voice actors. Though some of the vampire gods like the Hollow Man and Miss Whisper, have a little more personality compared to other characters.
Weapon sound effects sound hollow for the most part. They lacked reverberation. Each gun sounded distinct enough, but lack that extra oomph that other shooters readily provide. Though the supernatural sound effects are top-notch.
I can't tell you how many jump-scare moments I went through when vampires would suddenly appear in front of my character. It got me most of the time, but that shows how well the supernatural sound design was implemented in Redfall. In particular, the vampire nests stood out brilliantly. The horrific ambiance set the atmosphere well when traversing deeper into these ominous lairs. Naturally, it crescendos when reaching the vampire nest hearts, and hearing the elongated veins of the heart erupt after their destruction. It just felt impactful and reverberated, just as sound design should do.
The soundtrack was rather pedestrian. None of the tracks stood out in particular. Instead, the soundtrack was mainly used to accompany what was going on rather than build on the atmosphere or ambiance.
Redfall Technical Inconsistencies
Before the day one PC patch, the game running on AMD's FSR 2.1 behaved strangely (Radeon 5700XT GPU and Ryzen 5 3600 CPU). With quality mode selected, the game would sometimes run above 90 FPS. But in indoor venues, such as the hospital the frames would tank to mid-40s.
After the massive day one patch, performance improved massively. When out and about the framerate was noticeably higher and more stable. Though the framerate still dropped and texture pop-in remained a consistent eye soar. During one session, I noticed that the framerate would stutter and remain at 45 FPS no matter what was happening on screen. Despite the improvements, the game remains poorly optimized.
Final Thoughts on Redfall
Somewhere deep inside Redfall, there's a great game with interesting concepts. However, a multitude of technical issues from dodgy AI to texture pop-in and FPS drops are keeping it from its potential. Despite these glaring issues, I did manage to find enjoyable moments in the New England town, and the game made use of the power fantasy that many looter games provide. However, the more I ventured into Redfall, the more fatigued I grew. The lack of stealth kill/knockout options also feels like a major misstep that diluted Arkane Austin's signature immersive sim foundations. No doubt, Redfall will remain a blemish for the studio, and I hope they find their footing once again.
Redfall is available now on PC, Xbox Series X|S, and Game Pass.
Note – A Steam key was provided for the purpose of this review.