Happy Pride Month to everyone in the realm. The month of June represents a time of celebration for the LGBTQ+ community and all of its allies. As a result, many brands and studios participate in helping their respective communities feel represented during this time. Blizzard is no exception. They are kicking off the festivities this year with the first Overwatch 2 Pride Event.
Come and Celebrate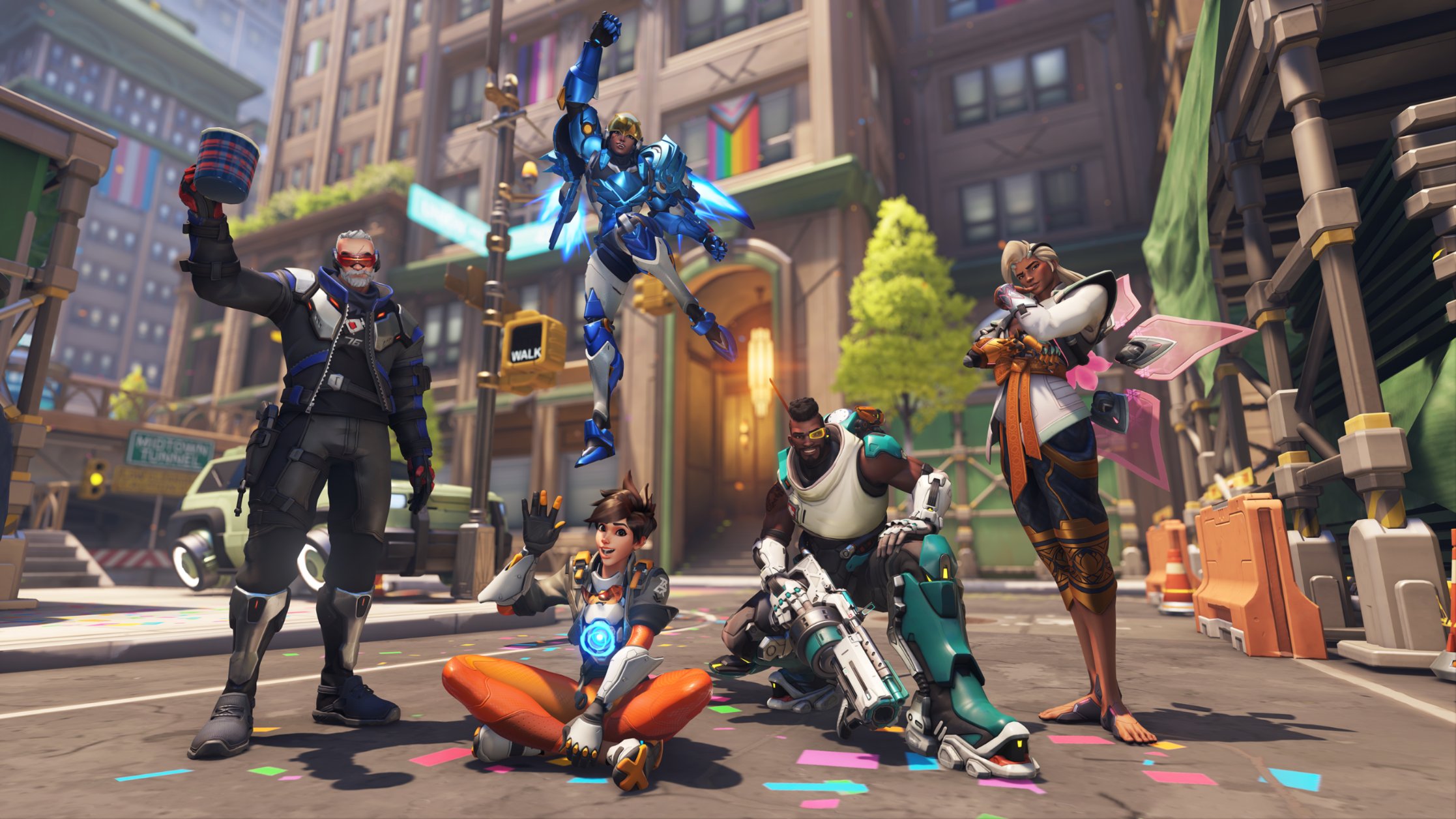 Read More: LOGNET's Most Anticipated Games in June
June 1st marks the start of Pride Month. Furthermore, players will earn a vast collection of name cards and icons representing different LGQBTQ+ identities. These cosmetics are a great way to show off your Pride in ranked and other pre-match lobbies.
Additionally, Pride is being celebrated in the world of Overwatch. The Midtown Map displays the aftermath of a Pride Parade event. Furthermore, players can spot a new photograph of Tracer and her partner, Emily, within the barracks of Watchpoint: Gibraltar. A new Tracer spray for the Overwatch 2 Pride event also shows off the adorable pair.
Heroes for All
Overwatch has earned praise over the years for its diverse cast of characters and the stories they hold. As such, fans love to form speculation about their favorite heroes. Baptiste and Pharah have been the center of Queer attention when it comes to their sexuality. Many fans rejoiced as the developers confirmed Pharah to be Lesbian and Baptiste to be Bisexual. Subsequently, they'll be joining other heroes being represented in specially themed name cards which are:
Tracer – Pride and Lesbian Flag
Soldier: 76 – Pride and Gay Flag
Pharah – Pride and Lesbian Flag
Baptiste – Pride and Bisexual Flag
Lifeweaver – Pride and Pansexual Flag
Lastly, fans of the lore should be happy to receive a new comic. This story, "As You Are," centers on Pharah and Baptiste along with the themes of Love and acceptance. You can also read comics featuring Tracer and Emily's relationship here.
Blizzard is also selling Pride merch. This month they will be giving back to the LGBTQ+ community. Net proceeds from these sales will be donated to the National Center for Transgender Equality.
The #Overwatch2 Pride Collection is here ❤️🧡💛💚💙💜

Net proceeds will be donated to @TransEquality🏳️‍⚧️

Wear it with pride ✨https://t.co/PADzplidGm pic.twitter.com/tCGiwvyIYp

— Overwatch (@PlayOverwatch) May 31, 2023
That is all Blizzard has in store for Pride Month and the Overwatch 2 Pride event. You can find the blog post including the full list of cosmetics here. It is nice to see a team put forth a genuine effort to bring about change in their environment. Furthermore, this is a small win in the wake of the PvE news shattering a lot of hopes and promises. Nevertheless, we here at Lords of Gaming always strive for equality and fair treatment of all. Happy Pride.