Yesterday, Google held a stream where they shared quite a lot of new information about Google Stadia.  We learned it's price, games and Internet bandwidth requirements to enjoy good quality streams. Stadia launches this November in the 14 countries listed below, with more to come in 2020 and beyond.
In order to enjoy game streaming in 4K, 60 FPS & HDR, players will need an Internet connection of at least 35 Mbs. For 1080p 60 FPS streaming, they recommend 20 Mbs  connection and 10 Mbs for 720p 60 FPS. If you are not sure you are ready for Google Stadia please follow this LINK. You can check if your Internet is good enough for streaming.
Google's new service will allow you to play games via paid monthly subscription of $9.99 or individual game purchases. At launch later this year Google will offer a few subscription tiers :
Stadia Founder's Edition Tier will be available only at launch. It comes with a Chromecast Ultra, Stadia controller, 3-months of Stadia Pro and a 3-month buddy pass for a friend .
Stadia Pro will be a $9.99 monthly subscription that will get you access to a library of selected games.  It will also offer 4K, 60 FPS &  HDR gaming experience. Not all Stadia games will be included here though, but you will be offered discounts on games for purchase . It will also get you access to the full Destiny 2 experience, including the upcoming Shadowkeep expansion.
Stadia Base will be a free of charge subscription but it comes with no games. You will have to purchase games individually, and it will play them at 1080p & 60 FPS.
As for the games, the full list of launch titles is not known yet but we have learned a few of the titles that it will release with. Please see the below list of games that have been confirmed so far: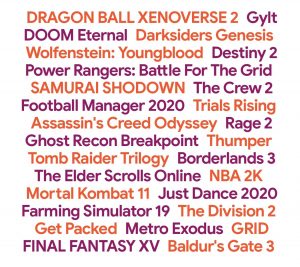 Source: Google Stadia