Call Of Duty has been on the center stage of holiday releases for almost two decades across consoles and PC now. The franchise has continued to grow and expand from its original WW2 shooter roots with every release. While the campaign may have been cast aside in Black Ops 4, it returned in a big way with the release of Call of Duty: Modern Warfare (2019). The reimagining of possibly one of the most recognized trilogy shooters was a big win for Infinity Ward in 2019. Now fast forward to 2022, and Call Of Duty: Modern Warfare 2 is here and continues the story started back in 2019 with some familiar faces. While the characters might be familiar, Call Of Duty Modern Warfare 2 has separated itself from previous titles with some big changes.
Attention To Detail Is Bar None In Modern Warfare 2

Call Of Duty has always been a graphical benchmark to a certain extent, but Call Of Duty Modern Warfare 2 is stunning on PC or current-generation hardware. From the seamless transition from cutscene to gameplay to the sheer details in the guns and environment. There are few games out there that look as good as Modern Warfare 2 does, especially with its character models. It honestly feels like you are watching a Hollywood movie and then you are plunged right into the action with no real noticeable downgrade in visuals. There is a very short list of games that have managed to do this, but the upscale in detail from Modern Warfare (2019) to its sequel is stunning.
The fluidity of movement and the animations while handling guns are flawless. While stealth takedowns felt rewarding as each strike was smooth and precise. The days of running and simply striking NPC enemies with a knife are over, and I found myself wanting to pursue using melee combat just because of how great the takedowns were. The details don't just stop at the visuals, the audio design behind this game is some of the best I have seen in a military shooter in a long time.
Powerful Audio Design in Modern Warfare 2
Guns sound powerful, when a gunfight breaks out between you and enemy troops you can hear every bullet ricochet as the environment is breaking around you. I was especially impressed by the tight quarter situations and how much the environment interacted with the fight. Blasting an enemy with a shotgun not only sent them flying backward but also had realistic impacts on the environment around them.
While Call Of Duty has always been more of an arcade shooter it appears that Infinity Ward is not willing to equate that to meaning it has to be "cartoony". It was easy to tell that the team wanted this to be one of the most detailed filled Call Of Duty titles that take advantage of current-generation hardware. Butter smooth framerate, with every environment packed with detail this is what people expect when they talk about what a AAA game is.
A Heavier More Realistic Call Of Duty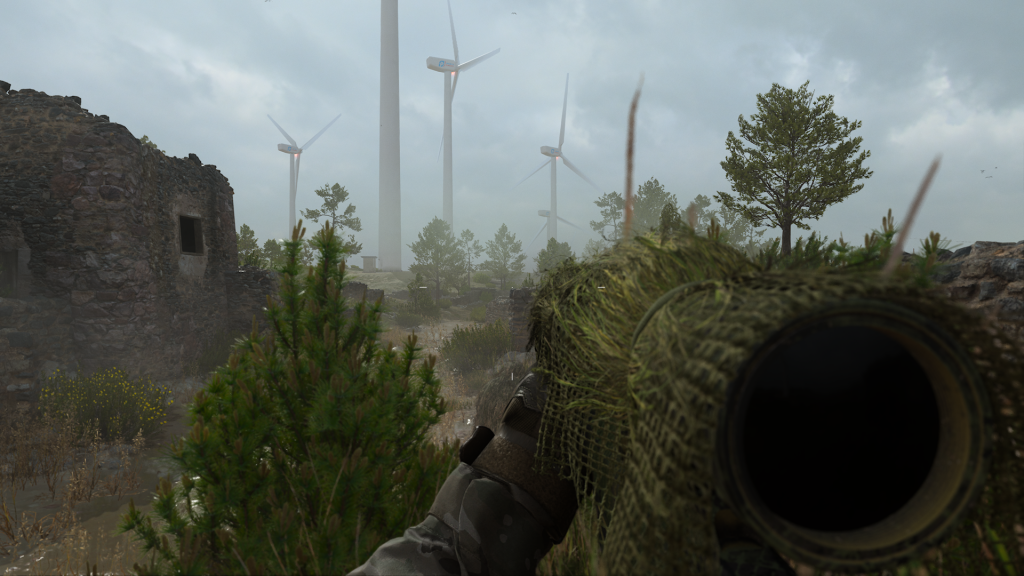 The first thing I noticed when jumping into Modern Warfare 2 was that the light "arcadeish" feeling of movement was gone. Instead, there is a heavy step to every movement you make. While I have mixed feelings about this in a multiplayer setting, in the Campaign it makes for compelling gameplay. It makes stealth missions feel much tenser. As you slowly crawl through the grass in a ghillie suit to reach your next sniping perch. Even in fast-paced combat scenarios, this weighted movement delivers.
The weapon variety through missions was good, especially with the addition of heavily armored enemies. While many enemies would go down with a bullet or two, with a headshot dispatching them instantly. A new variant of heavy special forces operators adds a new layer of difficulty and challenge no matter what difficulty you play on. With high-caliber rifles still able to pierce the helmet and kill these enemies. You will often find yourself with less than-optimal weapons to dispatch these enemies quickly. You will often have to improvise on the fly or even keep a high-caliber rifle as a secondary in order to deal with these enemies. It forces the player to think about more than just having a stockpile of ammo to fall back on.
Stepping Outside The Box With New Gameplay Loops
For a long time, Call Of Duty's campaigns followed the same gameplay loops with different time periods and characters. But ultimately it began to feel stale as it became go through a hallway and kill all enemies with your favorite weapon. Then move to the next room and do the same and at the end of the level. You would get a cutscene setting up the next level. This formula is alive and well even in Modern Warfare 2 but the key difference is each level is often packed with a variety of different gameplay elements.
One of the best missions to exemplify this was titled Alone, after a betrayal that leaves you weaponless and hunted by heavily armored special forces. You must scavenge through a Mexican village for survival, using household items to help you survive.
The introduction of an entire crafting system within this level was a surprise. Exploration was also rewarded, with a variety of pathways to reach your objectives filled with different loot. The level could be completed in a variety of ways, from players being able to unlock a safe and find a silenced desert eagle to help dispatch enemies. To even be able to go full Rambo and disarm a trap to obtain a double barrel shotgun to blow away enemy forces in close quarters. The diversity of ways you can approach this mission means that many players will carve out their own unique paths. This is a major leap forward in comparison to previous installments.
Even in the final mission, they manage to throw a curve ball into it. As they throw you into a survival situation that honestly felt like a subtle nod to the original Die Hard movie. I do not want to spoil this mission for those that have not played it. But, I was impressed with how every time I started to think I had the game figured out, they would throw something new at me. From a strategy unit control section of a level that allowed you to guide Ghost through a military prison. To a sniper-focused mission that felt like a nod to "Ghillie In The Mist" possibly one of the most classic missions in Call Of Duty history. Modern Warfare 2 was full of surprises from beginning to end.
A New Story But With Familiar Tones
Modern Warfare 2 is a reimagining of the original Modern Warfare trilogy. While the story is different the characters that many know and love are all here. A younger Captain Price leads a less veteran TF 141 filled with classic characters such as Gaz, Soap, and of course Ghost. Even General Shephard has returned and feels even less trustworthy than he did in the previous trilogy.
While the faces are the same, the story is much different and paints a much more complicated geopolitical picture of war than previous entries. I am not saying that there is any in-depth political commentary on war and who participates. Because at the end of the day, this is Call of Duty, not Spec Ops The Line. With that being said, it was nice to see them blur the moral lines in a more meaningful way. Making sure that you realized that you weren't necessarily the "good guy".
Outside of this, the story follows a pretty standard military shooter format. You are hunting one man throughout the roughly 10-hour campaign, and several underlings will try to get in your way. Most of them are quite unsuccessful. I don't think Call Of Duty will ever be able to shed its Michael Bay'esque storytelling. But with its short run time, and a heavy focus on cinematic action. Call Of Duty continues to be like a good action film on a Saturday night. A great popcorn-popping adventure from beginning to end.
Though the story may be cookie-cutter, the characters are well written with the full cast delivering great performances. I have to give a special nod to Glenn Morshower for a gritty interpretation of General Shepard. It felt like he was channeling his own version of Colonel Jessep from A Few Good Men and he absolutely stole the show.
Samuel Roukin also did Ghost justice in his first performance as the storied character. Previously a man of few words in previous titles, Roukin made the masked operative even more mysterious. But also gave him a more fleshed-out personality even cracking a few jokes at certain moments in the game that gave us a little more insight into his character.
Modern Warfare 2 Is A Grounded Return To Form
Call Of Duty Modern Warfare 2 smashed through my expectations for a Call Of Duty title. With a range of upgraded visuals, weighted and more realistic combat. Combined with a break away from their overly linear design of previous installments. Infinity Ward has proven once again why they are the gold standard for this franchise.