The last day of April brought a new anime series to Netflix, Yasuke. It is inspired by the real-life accounts of Yasuke, the Black servant turned samurai during Japan's feudal era. Additionally, the anime series takes creative freedoms by introducing fantastical elements. LeSean Thomas', creator of Yasuke, creative mind brings an excellent action-packed series and reflects the Black experience.
Story of Yasuke
Yasuke begins with the transition of the protagonist Yasuke (voiced by Lakeith Stanfield) from proud samurai to a retired warrior. Yasuke is burdened by guilt. At the height of his samurai career, he served under Oda Nobunaga, the Great Unifier of Japan. However, Oda's army was attacked by a powerful evil Daimyo (Japanese term for Warlord). The ensuing battle left Oda's army devastated, driving Oda Nobunaga to order Yasuke to give him an honorable death.
Regardless of fulfilling his duty as a samurai, Yasuke felt he failed as a protected. He proved helpless to save his master and allies from death. Nightmares of this failure drove him to sheath his sword forever. Yasuke takes self-exile in a random village as a simple boatsman. Yet Yasuke cannot hide forever. This begins a story whose heart revolves around questions of what is honor and how does one uphold it.
Inciting Incident
Yasuke almost forsakes his honor in favor of staying out of trouble. A local village singer named Ichika, approaches him looking for safe passage up the river for herself and her daughter, Saki. Saki has growing magical powers that often leave her in a sickly state. Saki's only hope is a special doctor located outside of the village. Yasuke refuses her at first, stating it is too dangerous with the Daimyo's thugs roaming the countryside.
Despite his initial refusal, Yasuke's deep-rooted sense of honor will not let him leave well enough alone. His memories of helping another child upon his initial arrival to Japan years ago bring him to a simple conclusion. "It takes a village to raise a child". This African proverb spurs Yasuke to once again take up his katana and uphold his honor.  He returns to Ichika, offering his assistance. This shows one of Yasuke's defining characteristics. He is continually driven to help those in need, even if he is seen as an outcast.
(Original text: Despite his initial refusal, Yasukeexperiences a flashback. The memory reminds him of another time he helped a different child in need when he first arrived in Japan many years ago.  This memory causes him to remember a variation of the African Proverb, "It takes a village to raise a child." This spurs the tormented soul to take up the katana once again to uphold his honor. )
Read More: HBO Max Casts Their First Green Lantern 
Path Well Trodden
Netflix's anime Yasuke delivers a plot that stays within the boundaries of familiar tropes: a grumpy and reserved outsider with a mysterious past helps a young individual with mystical talents fulfill their destiny. This is not a bad choice in a vacuum; however, Yasuke's limited six-episode season prevents it from fully exploring Yasuke and the supporting cast. Despite nightmares of failing his allies and duties as a samurai, Yasuke feels like as much a mystery at the conclusion of the series as at the beginning.
The anime never explores Yasuke's life in Africa, despite the influences of the teachings there seemingly defining who Yasuke is as a protector and warrior. Yasuke himself has great traits. He is loyal, intelligent, and has a strong moral compass. Though it is the plight of rivals turned friends near the end of the series that proved to be the more compelling characters.
Supporting Cast
The cast surrounding Yasuke and his magical companion Saki is memorable and entertaining. They are especially pivotal for the climactic battle in the series finale. The mercenary group, in particular, stands alone as the character arc that almost stole the show. The colorful band is made up of a quirky mech named Haruto, Benin mystic Achoja, Werebear Nikita, and assassin extraordinaire Ishikawa. They prove challenging obstacles for the hero after being hired by a creepy Catholic priest to capture Saki so he can use her for his own religious conquest. Their attack on Yasuke, Saki, and Ichika was the catalyst for Saki gaining control over her abilities. Each of them had a quirky talent but seemed pretty one-note as a whole at the start.
However, they make a return toward the series finale aiding Yasuke and his allies to fight off the Daimyo. There is not a clear reason as to their change of heart aside from an expectation of payment after the battle. They even go so far as to make noble sacrifices for the greater good: a peaceful Japan free from tyranny. Achoja proves to be pivotal for victory, putting his mystic abilities to the test in an entertaining kaiju-style fight.
Haruto and Achoja
Meanwhile, Haruto had one of the most emotional scenes in the entire series. Haruto displays raw emotion over a loss despite being mechanical and having no facial expressions. This was unexpected from the character and caught me off guard as a viewer, emotionally moving me. With the exception of Achoja, it is a shame the group will not be making a return in a possible season 2. Also worth noting, Achoja is the only other black person in Japan aside from Yasuke himself. Unlike Yasuke, he is driven by self-interest and greed. Only agreeing to help others if he is somehow compensated. Yasuke and Achoja share very few words throughout the journey of season one.   It would prove interesting to see the dynamic between these two expanded upon next season to compare their experiences in the strange land.
Plot and Missteps
There are elements introduced to make Yasuke a sympathetic protagonist. His mission to deliver Saki to a mysterious doctor in a wartorn Japan ruled by an evil daimyo has all the makings of a great anime. Conversely, the lack of a deeper history with Yasuke hinders the development of a deep connection with the audience. The flashbacks during the height of his samurai career also lack context in his mind. Viewers are never divulged into Yasuke's inner thoughts at the time.
Yasuke later shows that he becomes well-read, having mastered Japanese, Japanese proverbs, as well as Biblical scripture all while honing the way of the samurai. This often catches others who meet Yasuke off guard. People expect less of him being a foreigner or different. A figure who could easily be mistaken as a servant in this land is shown to be anything but and often vastly more skilled than seasoned natives. This shows how easily one can fall into stereotypes. People like Yasuke can surprise you, and he continues to do just that throughout the season. Yet, not once did I truly feel the weight of the anguish over Yasuke's failings or his aversion to senseless violence.
Honor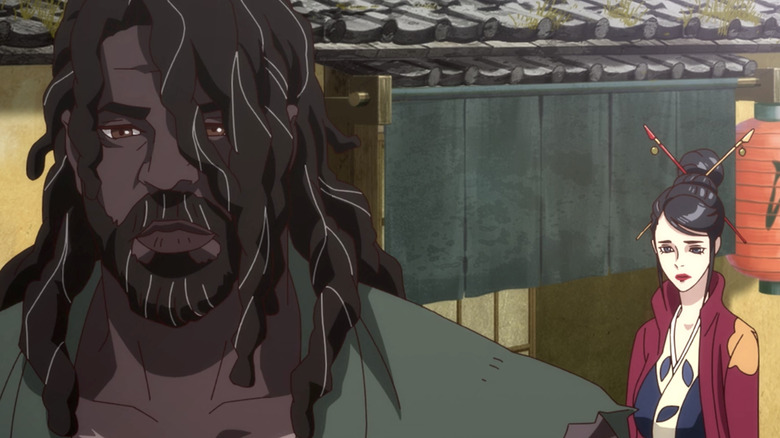 This may be due to Lakeith Stanfield's portrayal of Yasuke. The deliveries art curt and subdued. This does a great job displaying Yasuke's calculating and reserved nature. However, the lack of emotional depth hinders the performance by the end of the anime. Lakeith never convinced me of the pain and sorrow Yasuke always carries on his shoulders. This is especially true for some of Yasuke's memorable quotes.
There is no honor to be had here, only pain and blood.
Yasuke's flashback surrounding this quote is also the driving point for the question of honor. Yasuke has his sense of honor: protecting the innocent and strive to do good anywhere you go. Figures like Oda Nobunaga also have a strong sense of honor, yet his interpretation conflicted with Yasuke's causing the Black samurai much grief down the line. Then there are figures in opposition to Yasuke. One character in Yasuke's past betrayed him despite the two sharing a strong bond. Yet, they stated it was all for the honor of their clan. With many different scenarios introduced, there are clearly multiple interpretations for honor. By the end though, Yasuke himself finds his own definition of honor. Being true to one's self, in whatever path that may lead.
Lack of Care
The quote about honor is mentioned several times even titling one of Netflix's anime Yasuke's episodes. A Japanese proverb, it denotes when peace cannot be acquired, only violence will deliver a resolution. Visibly Yasuke is burdened by this, even stating aloud how he does not revel in senseless bloodshed, yet the impact often feels hollow once delivered. By the end, Yasuke has a peaceful post-credits scene that can easily bridge this self-contained story into a season 2. However, I'm left wishing I cared more than I did at the old warrior's final chance at rest.
Animation
Longtime anime fans will be pleased to see Studio Mappa delivering another surreal experience. Most viewers will find the animation to be the star of Netflix's anime, Yasuke. The animation is mostly rendered in 2D with a few setpieces rendered in 3D. This allows the action to truly shine. Viewers with a keen eye may notice similarities to other anime fight scenes. The snappy transitions, sharp and vibrant colorful effects, as well as smooth, highspeed animations when trading blows are all here. That's due to the brilliant touch of Megumi Iwabuchi who previously worked on God of Highschool and Jujutsu Kaisen. These similarities only enhance the anime and do not take the audience out of the experience.
Yasuke's fight scenes and grand battles are truly a spectacle. Enemies are devasted by sword cuts and mystical fights are wonderfully imagined and shaped. Every fight had me captivated and on the edge of my seat from the initial sword slash to the last magic blast thrown. The setting and background pieces are also beautiful to behold. Animators for the series colorfully animate the landscape of feudal Japan. Colors, transitions, and spaces are also used in unique ways when Yasuke's more fantastical elements come into play.
Music
While the animation may reign supreme in the minds of many viewers, the soundtrack has personally left a lasting impression in my mind. Flying Lotus uses his creative genius for Netflix's anime Yasuke. For the anime intro/outro lovers, they will be pleased with every episode. "Black Gold" is the series' intro while "Between Memories" ends each episode. Thundercat and Niki Randa worked with Flying Lotus for these songs.
Typically, an anime intro/outro will be skipped after being watched once or twice. I found Netiflix's anime Yasuke's premiere songs to differ from this case. They provide a visual experience psychedelic in nature while providing a mixture of R&B and soothing melodies. These are songs viewers will enjoy listening to multiple times and will surely stick with them long after the credits roll.
I was also pleasantly surprised by the music scores throughout the anime. Many songs mix together classic eastern action music with electronic jazz and R&B. This provides the listener an experience of Japanese and Black culture fusing together.
Verdict
Netflix's anime, Yasuke provides an adventurous new spin on samurai storytelling. LeSean Thomas (creator of Yasuke) drives home a powerful message mimicking the Black experience in society today. Yasuke is often met with an ugly truth by many "You will always be a servant." A stranger in an even stranger land, he reconciles with his past and the notion of a country he fights for may never love him the same. Marvel's Falcon and the Winter Soldier also touched on this.
Yasuke finds peace with this at the end. He brings closure to loose ends of his haunting past before moving on. The warrior has a renewed sense of vigor as he walks a new path. The lessons he learned over the years have taught him to never let others define who he is based on appearance. Yasuke forges his own fate by his deeds no matter the opposition. There have definitely been those prejudiced against the protagonist based on his appearance. However, Yasuke also made great allies along the way who give him love and respect. The show reflects there will always be those with malignant biases against people, yet one must persevere past this and give your own truth in return. Yasuke confirmed as much with another great quote:
I serve no man.
Last Impressions
The show also echos what having honor truly means and the grey areas people often operate in. On the other hand, it is held back by its lack of character development, stoic protagonist voice acting, and short-season length. Many may also be turned off by the fantastical elements introduced instead of a more grounded experience. For those who may be looking for a more grounded retelling of Yasuke's story, this may not be the anime for you. The ending of the season does leave hope for a continuation of the story.
Overall Netflix's anime Yasuke is a great anime series. It is a wonderful representation of work from Black creators. The show has had a positive reception from audiences so far. If Netflix greenlights a season two, Yasuke's journey will not end here.