While I have been dabbling with quite a few different Pokémon Doubles Battle teams, I found one team many will enjoy. The team I am talking about is something called Eevee Nation. It is exactly as you think a Pokémon team consisting of only Eevees and Eevee evolutions. Eevee has been for a long time considered to be the cutest and most likable Pokémon. Don't let their cuteness fool you, because this team can rock the house!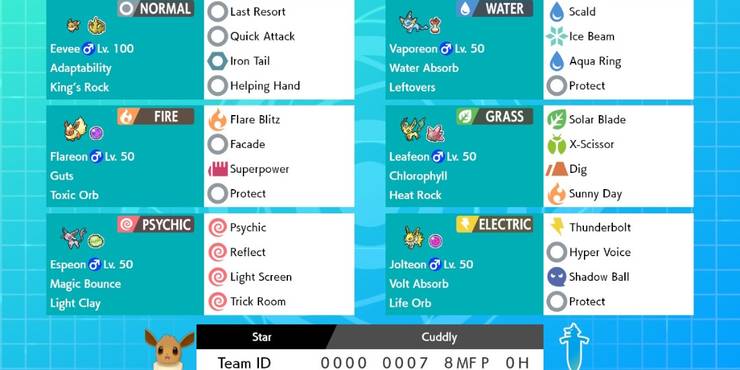 Team Characteristics
When you go into a Pokémon battle, you don't have to use the biggest and nastiest Pokémon to succeed or have fun. You can use some of the cutest Pokémon out there with a team of Eevees. When it comes to a team full of Eevees, you can make an entire team with tons of combinations. An Eevee team can consist of several strategies for both defensive and aggressive trainers. Plus maybe some could be distracted by the cuteness of the Eeveelutions.
When it comes to your lead Pokémon, use Eevee and Espeon. You have Espeon setting up various status conditions for defensive or speed boosts while Eevee can stun opponents with its King's Rock which could cause opposing Pokémon to flinch. Your tank of the group is a fan favorite in Vaporeon. It can heal itself with Aqua Ring and use an occasional Protect move. Lastly on the list are Flareon, Leafeon, and Jolteon. These three Pokémon can usually deal tons of Dynamax damage once your battlefield is set up how you want.
Eevee
When it comes to the Normal-type Pokémon, Eevee's cuteness can fool you. Eevee is one of our two lead Pokémon that can pack a powerful punch. Our Eevee here is a male with the Adaptability ability. This ability will power up moves that are the same type as the Pokémon. The item Eevee is holding is the King's Rock which allows this Pokémon's moves to possibly cause Flinch. Other Pokémon actually use the King's Rock to evolve. This Eevee's three highest stats are Hit Points, Special Defense, and Defense.
The Pokémon moves he has are Last Resort, Quick Attack, Iron Tail, and Helping Hand. Last Resort is a really powerful move, but can only be used after the Pokémon has used all other moves it knows. The next move is Quick Attack which you can guess what it does. It's a fast stab type of attack that hopefully causes Flinch thanks to the King's Rock. Next up is the move Iron Tail which when used may lower the target's Defense stat. Then the last move on the list is Helping Hand which boosts the power of an ally attack. Eevee being a Normal-type means it's weak to Fighting-type moves.
Espeon
Next up we have the second lead Pokémon the Psychic-type Espeon. We have a male Espeon with the ability of Magic Bounce. This ability reflects status moves instead of getting hit by them which is really crucial at times. He is also holding the Light Clay which causes your protective moves like Light Screen and Reflect to be effective for longer periods. Very useful when setting up to protect your team, so you can dish out the damage with some safety. Espeon's three primary stats are Special Attack, Speed, and Special Defense.
With Espeon leading to set up for the battle his moves are Psychic, Reflect, Light Screen, and Trick Room. He has only one attacking move in Psychic which can lower a target's Special Defense. Secondly, he has Reflect which reduced damage for your team from physical attacks for five turns. Now Reflect will reduce damage from incoming Special attacks for five turns. Both moves take advantage of his held item the Light Clay. The last move on the list is Trick Room which is interesting. Trick Room reverses the move order, so that Pokémon with a lower Speed stat attack first, while those with a higher Speed stat will attack last. Some priority moves will still go first though regardless of Trick Room, sp makes for a unique battle aspect. Espeon is weak to Bug, Ghost, and Dark-type Pokémon.
Vaporeon
Third, on our Eevee team is none other than our tank the Water-type Vaporeon. Here, we have a male Vaporeon with the ability Water Absorb. Thanks to this ability, when Vaporeon is hit with a Water move it gets healed instead of taking damage. Vaporeon is holding Leftovers which heals him slowly, but steadily throughout every battle. The three best stats for Vaporeon here are Hit Points, Special Attack, and Special Defense. The high hit Points are great for our tank.
The Pokémon moves our Vaporeon has are Scald, Ice Beam, Aqua Ring, and Protect. Scald is a very good attack that has a chance to burn the target. Ice Beam is also a good attacking move that may freeze the target preventing them from using moves. The third move is a healing move in Aqua Ring which heals some Hit Points every turn. The final move is Protect which is used by many teams. Protect essentially protects from most attacks with only a small number that can get through. If used in succession though it can fail. Vaporeon is weak to Electric and Grass Pokémon.
Jolteon
Here, we have one big damage-dealing Pokémon with the Electric-type Jolteon. Jolteon is a male with the ability Volt Absorb. This ability allows him to be healed when hit with an Electric move instead of taking damage. Our held item which is a common one is the Life Orb, which boosts the power of moves at the cost of some Hit Points. Jolteon is definitely one of the Pokémon to Dynamax in battle and deals massive amounts of damage. His three highest stats are Speed, Special Attack, and Hit Point. He is the fastest Pokémon on the team.
The moves Jolteon has are Thunderbolt, Hyper Voice, Shadow Ball, and Protect. Thunderbolt is a good attacking move that may cause the target paralysis. The next attacking move is Hyper Voice which hits all adjacent Pokémon dealing damage. Shadow Ball is a Ghost-type move that causes damage and may lower the target's Special Defense. Do you see the pattern with stat reductions yet? The last move is Protect which you know protects us from a round of most attacks, but shouldn't be used in succession. Jolteon is weak to Ground Pokémon.
Flareon
Now our second of three Pokémon we want to Dynamax is the Fire-type Flareon. This Flareon is a male with the Pokémon ability of Guts. If Flareon has a status condition Guts will boost his Attack stat. He is holding a Toxic Orb which badly poisons the holder during the battle. Yes, it hurts us but this means our Guts ability will trigger. Flareon is a real heavy hitter just like Jolteon with some powerful moves. Flareon's two best stats are Attack and Hit Points. Imagine how much the Attack stat is with the Gut's ability active!
Our Flareon knows Flare Blitz, Facade, Superpower, and Protect. We already know what Protect does with protecting our Pokémon for a turn. Flare Blitz is a high damage move that may burn the target. It also causes us to take damage as well. Facade is a good attack move that doubles if our Pokémon is poisoned, burned, or paralyzed. You can see the trend here. Our last move is Superpower which deals a lot of damage but lowers our Attack and Defense stats. Flareon is weak to Water, Ground, and Rock-type Pokémon.
Leafeon
Our last Pokémon and the third choice for Dynamaxing is the Grass-type Leafeon. Our Leafeon is male and has the Chlorophyll ability which boosts its speed stat in harsh sunlight. Due to this a move like Sunny Day is really good. Leafeon is holding a Heat Rock which extends the duration of the move Sunny Day when used by the holder. Always remember in Doubles Battles you only get to select four Pokémon, so factor that into your strategy when choosing. Leafeon's three best stats are Speed, Attack, and Defense.
The Pokémon moves our Leafeon knows are Solar Blade, X-Scissor, Dig, and Sunny Day. Sunny Day is crucial to Leafeon and makes it sunny for five turns. Raises the power of Fire moves and lowers Water moves so gotta be careful here. Solar Blade draws in sunlight one turn and attacks on the following turn unless it's sunny. Then the move is only a one-turn move. Next, we got Dig which we burrow underground for a turn causing most moves to miss us and then attack the following turn. The last move is X-Scissor which is a decent attacking move as well. Leafeon is weak to Fire, Ice Poison, Flying, and Bug Pokémon.
Wrap-Up
When it comes to selecting a Pokémon Battle Team for me, I always try to find the fun and unique ones. Sure, you could go out and use the number one team and have plenty of success, but isn't it more fun to do it with a unique team. Don't get me wrong even though Eevee Nation isn't a mainstream team, it can do very well with the right trainer. This team is also meant for Doubles Battles and just takes the proper strategy to do well. There will be more Pokémon teams in the future so stay tuned. If you want see me write about a team you know of comment below or message me on Social Media.