So I want to start this off by prefacing that it's based on my personal experience with Xbox Cloud Gaming. I will be talking about my experiences playing on mobile devices specifically cell phones, connectivity, accessories, and the like. So let's get into some Xbox Cloud Gaming talk!
X Cloud Accessories
Ever since Xbox Cloud Gaming was rolled out to the general public, we have had a plethora of options for accessories. These can be anything from controllers to even earbuds. Through my experiences with X Cloud, I have used or tried a variety of controllers. I will get the worst one out of the way and that would be the basic phone clips you can find on Amazon. I have purchased 2 of these myself and both times after attaching them to the controller and clipping the phone in they ended up breaking. A little screw would break off at the point where it moves back and forth. Or even just the clip where it attaches to the controller would get damaged or break off. Both of these accessories were between $13 -$15 respectively.
Now when it comes to some good accessories in the controller department I liked 3 of them. The Razer Kishi, Backbone, or just a regular Xbox Series X controller via Bluetooth were the best Xbox Cloud Gaming controllers I got to use. Currently, when playing X Cloud on my mobile device I just use my Xbox Series X controller and use my phone's kickstand considering I mostly tested this at work. On the go or in a place where Wi-Fi is available if you want to be comfortable I recommend the Razer Kishi or the Backbone. Your mobile device clips in easily and you are off enjoying your favorite game. I used a few different kinds of earbuds for sound but the best name brand was definitely Raycon's Earbuds.
When it comes to the prices here you can get the earbuds I have for around 60-70 dollars and there are always promotions being ran. The latest Razer Kishi and Backbone are both sitting at around 99 dollars. With new accessories coming out all the time there will never be a shortage of great ways to utilize Xbox Cloud Gaming on your mobile devices.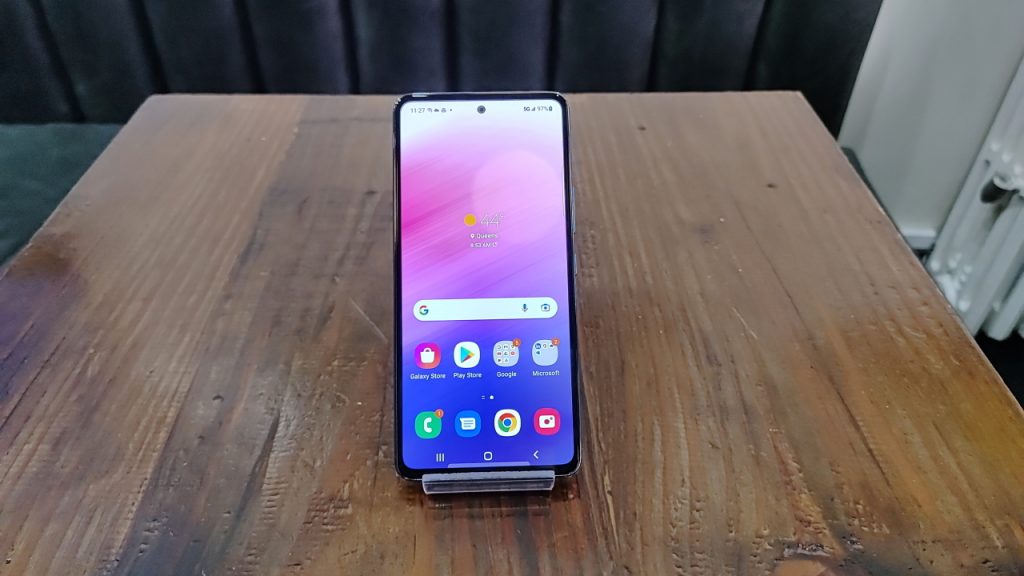 Mobile Devices And Connectivity
My experience here has been limited to 2 devices. The latest foray into Xbox Cloud Gaming is on my latest mobile device which is a Samsung Galaxy A53 5G from Walmart. Let me tell you I was shocked this weekend while playing. I chose a game that had a decent amount of things happening which was Black Desert. I also had to use the browser, because the app isn't working. While playing Black Desert, I was able to run through town with minimal or no lag at all. All the controls felt smooth except when I would turn the camera for the character and there would be an occasional overspin. I managed to complete around 20 or so quests and fight 2 bosses.
I did experience a very small amount of lag during the boss fights but not too much to where it affected my enjoyment. My older device was a previous installment in the Samsung Galaxy series and was 4G. When I used Xbox Cloud Gaming on that device, I tried out Gears 5, Humans Fall Flat, and Octopath Traveler. Something to remember for both of these devices I wasn't connected to Wi-Fi and was just using the cellular networks. To my surprise Gears 5 ran really well even in multiplayer. There was the occasional lag but ran smoothly for the most part. I was chainsawing people just like I would have been on my Xbox.
Octopath Traveler was flawless and had zero issues. For some odd reason, I had a lot of issues with Humans Fall Flat. Im not sure why, but it lagged, was very choppy, and was not very controller responsive. Keep in mind 97% of my experience is in a factory/facility setting where cell service can be all over the place. Besides Humans Fall Flat, my X Cloud experience was great. Obviously, the newer phone ran smoother but that's to be expected considering where X Cloud was at the time and my other phone wasn't 5G or anything special. If you want the best gaming experience for X Cloud I would play connected to good Wi-Fi regardless. I will say there are better options out there when it comes to phones to experience Xbox Cloud Gaming on.
X Cloud Mobile Offers
Some other great things Xbox Cloud Gaming has going for it is easy it is to play on mobile. Scrolling through the games on the app as I write this, there are so many games with touch controls. If you can't afford an expensive accessory you can literally just use touch controls for some games. Xbox has always been great when it comes to accessibility. Then you have the factor of Game Pass obviously. Which is how you have access to over a hundred games to play via the Cloud.
How can you beat that? Everything from Gears 5, Forza Horizon 5, Ghostwire: Tokyo, Fortnite, Atomic Heart, and plenty more because the list goes on. If you get achievements or complete Game Pass quests it all registers as if you played on your Xbox. A big thing is it saves your games in the cloud so if you wanna play Persona 5 Royal while trying to kill time out and about you can. Then when you get home you can continue right where you left off.
Final Thoughts
Xbox Cloud Gaming has come a long where from where it started. It began as a laggy and choppy mess when it first came out to the public in the beta. Over time I can honestly say it has drastically improved in multiple areas, especially in the technical aspects of it. Plus the continual addition of games flowing into Game Pass gives us more chances to try things out on our mobile devices. Obviously, Xbox Cloud Gaming is everywhere consoles, PC, tablets, phones, etc. It's not perfect because nothing is. I have thoroughly enjoyed my time with Cloud Gaming and think it's great. It seems as if the plan is to put gamers first and make the Xbox Cloud Gaming experience the best it can be!